(Translation)
Mina:

Ronnie, have you seen the HKMA's recruitment advertisement for Manager Trainee (MT)?
Ronnie:

Mina, you are doing fine at your current job. Why do you want to apply for the MT position? It is only suitable for final-year students at universities or those who have recently graduated from universities.

Mina:

Certainly not me who wants to apply - I am just asking it on behalf of my friend. A friend of mine will be graduating from a university next year and has started looking for MT positions in different organisations. Since he is interested in both finance and public policy, he thinks that the HKMA's MT programme is particularly suitable for him.
Ronnie:

So, what do you know about the HKMA's MT programme?

Mina:

I knew you would ask me about this and so I have done my homework and read through the materials beforehand. The MTs in the HKMA will undergo a two-year on-the-job training programme. During this two-year period, each of them will be posted to two to three different departments such as Banking Departments, External Department, Monetary Management Department, or Financial Infrastructure Department. The work is very diverse and interesting. The aim is to allow the MTs to have a full exposure to and comprehensive understanding of HKMA's functions, so as to develop them into all-rounders and groom them to become HKMA's future management cadre.
Ronnie:

This is quite a good answer. But you missed out the most important point. For those who just graduated, the salary offered to our MTs is absolutely comparable with the best-paid jobs in the market.

Mina:

How much does it pay?
Ronnie:

Did you just say you have done your homework? It is clearly set out in the MT's recruitment advertisement. You had better read the advertisement again carefully.

Mina:

I know that upon completion of the two-year training programme with satisfactory performance, the MTs will be promoted to Managers. What will be their career development afterwards?
Ronnie:

Good question! After the two-year training programme, they will still be posted to different departments in the HKMA regularly so that they can have a wide exposure to various professional fields of the HKMA's work and become highly versatile and well-rounded. They may also have the opportunity to be posted to our New York Representative Office or seconded to international organisations such as the International Monetary Fund (IMF).

Mina:

What are the requirements for the applicants of the HKMA's MT programme?
Ronnie:

Whoever makes it to the MT programme must be elites. Over the years, the candidates have invariably graduated from local and overseas top universities with very strong academic results. However, simply having good academic credentials is not sufficient. To become MTs, the applicants need to have broad general knowledge, be adaptive, and demonstrate strong analytical and communication skills. They should also have the courage to take on challenges, the readiness to try new things, and be good team players. Last but not least, the commitment to high standards of integrity and strong aspirations for contributing to the society are also among the selection criteria.

Mina:

Does the MT Programme only accept graduates from business schools?
Ronnie:

Not really. Graduates from any fields are welcome to apply as long as they possess the aforementioned credentials. In fact the HKMA provides plenty of training opportunities, including vertical training on deepening professional knowledge and horizontal training on comprehensive skills. MTs and other staff are all welcome to participate in these training programmes to upgrade themselves for serving the public.

Mina:

The objective of the MT programme is to groom young aspirants who have keen interest in pursuing a central banking career to become HKMA's management cadre. How effective is it so far?
Ronnie:

The MT programme was launched in 1994, the year following HKMA's establishment. The majority of our MTs recruited over the years are still working in the HKMA, and have become key staff members in various departments. A number of them have even been promoted to the rank of Division Head and Executive Director.

Mina:

Can you name those who have become Executive Directors?
Ronnie:

Carmen Chu, Executive Director (Banking Conduct) and Vincent Lee, Executive Director (External) are among the first batch of graduates from the MT programme, while Henry Cheng, Executive Director (Monetary Management), is among the third batch. The HKMA has uploaded today the interviews with Carmen, Vincent and five MTs recruited in recent years. In the interviews, they shared their experiences about the MT programme, and offered advice to those interested in joining the programme. They also answered some frequently asked questions, e.g. whether working at the HKMA is "out of touch" with the public. For those who have keen interest to become MTs of the HKMA, it is certainly worth taking a look at the interviews. The deadline for application for this year's MT programme is 22 October.

Mina:

Not everyone is eligible for the MT programme. How can I get to know other job vacancies at the HKMA as soon as they are posted on the website?
Ronnie:

You can sign up for the Email-Alert Service and choose the categories of HKMA news you want to receive. Apart from job vacancies, you may also choose the inSight column, so that you will not miss the latest views of the HKMA's senior executives and articles by Mina and me!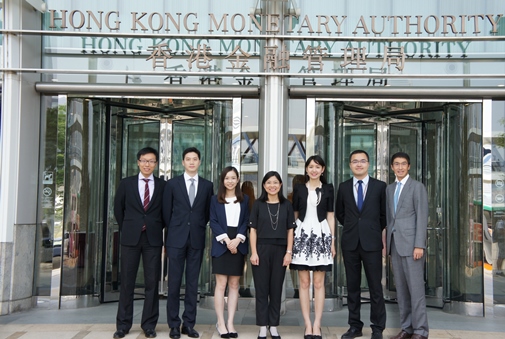 Ms Carmen Chu, Executive Director (Banking Conduct) (middle) and Mr Vincent Lee, Executive Director (External) (first from the right), together with Mr Phillip Wong, Mr Joshua To, Ms Angela Wu, Ms Tiffany Tang and Mr Bill Liang (from left to right) who are managers from various departments, share their experiences about the MT programme.
Written by Ronnie and Mina, the two specially-assigned 'Observers' who go around the HKMA office in IFC, Central, collecting interesting facts and sharing them with you from time to time.