Responsible for overseeing the enforcement function including the Complaint Processing Centre of the HKMA as well as the supervision of the anti-money laundering and financial crime risk management by authorized institutions and stored value facility licensees.
Carmen is among the first batch of the HKMA's MTs. She was working in the banking industry when she came across the recruitment advertisement. She decided to apply for the post because she was interested in public policy. Moreover, she thought she could put what she had learnt into practice as the courses she took in the university were relevant to the work of the HKMA.
One might have the impression that the work of a public entity is very boring and tedious. Yet Carmen has a different view. Though she has already been working at the HKMA for many years, she still finds the work very challenging. Her most unforgettable experience is participation in the internationalisation of Renminbi. This policy of financial liberalization was so important that there was no room for mistakes. The regulators in both places have stepped up their communication and cooperation in the process. It took years from policy design and formulation and deliberation to implementation. Despite the seemingly endless process, the outcomes were a great encouragement to Carmen. Since the introduction of renminbi business in 2004, Hong Kong has become the leading offshore renminbi business centre in the world.
There are many opportunities to go on overseas business trips or station overseas. Carmen was seconded to the World Bank Office in Beijing from 1998 to 1999, responsible for conducting research. She got the opportunity to meet with various Mainland institutions and officials during her time in Beijing, establishing some very valuable personal connections that were conducive to the development of offshore Renminbi business in Hong Kong by the HKMA later.
In addition, as the HKMA is a member of the Bank for International Settlements, staff will have the opportunity to attend meetings in Basel, taking part in the discussions with senior officials from other central banks and exchanging views on latest global financial market conditions and regulatory developments. Carmen thinks that these are valuable experiences and opportunities that are not available in the private sector. Another unexpected reward from working at the HKMA is the friends from different parts of the world she has made when attending various overseas meetings and events.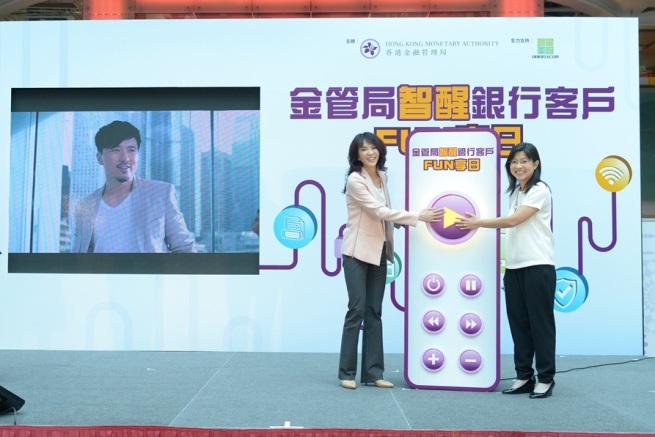 Caption: Carmen (right) attends the opening ceremony of an event under the HKMA's Consumer Education Programme.