The Green and Sustainable Finance Cross-Agency Steering Group (Steering Group) and CDP co-organised a joint seminar on sustainability reporting today (13 March).  With the support of the Chinese Manufacturers' Association of Hong Kong (CMA), the Hong Kong General Chamber of Commerce and other industry associations, the seminar brought together around 500 on-site and online participants from the corporate, banking, insurance, asset management, professional services and fintech sectors.
The seminar discussed the importance and benefits of sustainability reporting, and in particular, how SMEs can use the Steering Group's Questionnaire (Note) to communicate their sustainability efforts to stakeholders, and how financial institutions can collect climate data from their clients while supporting their clients' low-carbon transition.  The seminar was opened by Mr Darryl Chan, Deputy Chief Executive of the Hong Kong Monetary Authority (HKMA), followed by two keynote speeches by Mr Donald Chan, Managing Director, Asia Pacific of CDP, and Dr Allen Shi, President of the CMA respectively.  Experts from diverse backgrounds also shared their insights and experiences on sustainability reporting and the use of the Steering Group's Questionnaire at the panel discussion and case sharing sessions.
Mr Darryl Chan said, "SME is an important segment of our economy; their participation is crucial for Hong Kong to achieve our carbon neutrality target.  But SMEs may not all have the necessary tools and resources to undertake sustainability reporting and to make and implement plan to reduce their carbon footprints.  The SME Questionnaire that the Steering Group launched last December in partnership with CDP, as well as today's seminar, are all part of our effort to support SMEs to participate in this transition journey.  We encourage more of them to join."
Mr Donald Chan said, "CDP recognises the importance of facilitating high-quality, environmental disclosure by SMEs, which represent a significant proportion of the global economy and will play a key role in the transition to a net-zero world. We are proud to partner with the CASG to develop the SME climate disclosure template. We believe this represents a valuable starting point on the journey toward full Task Force on Climate-related Financial Disclosures (TCFD)- and International Sustainability Standards Board (ISSB)-aligned environmental disclosure."
Dr Allen Shi said, "Helping SMEs overcome the barriers to green transition will be critical not only to us achieving broad-based and sustainable economic growth, but also to SMEs' survival and their ability to capture substantial opportunities. The CMA endeavors to support its members to integrate ESG into their practices. We welcome the launch of the SME Questionnaire as it can enhance disclosure standards among SMEs and improve supply chain transparency."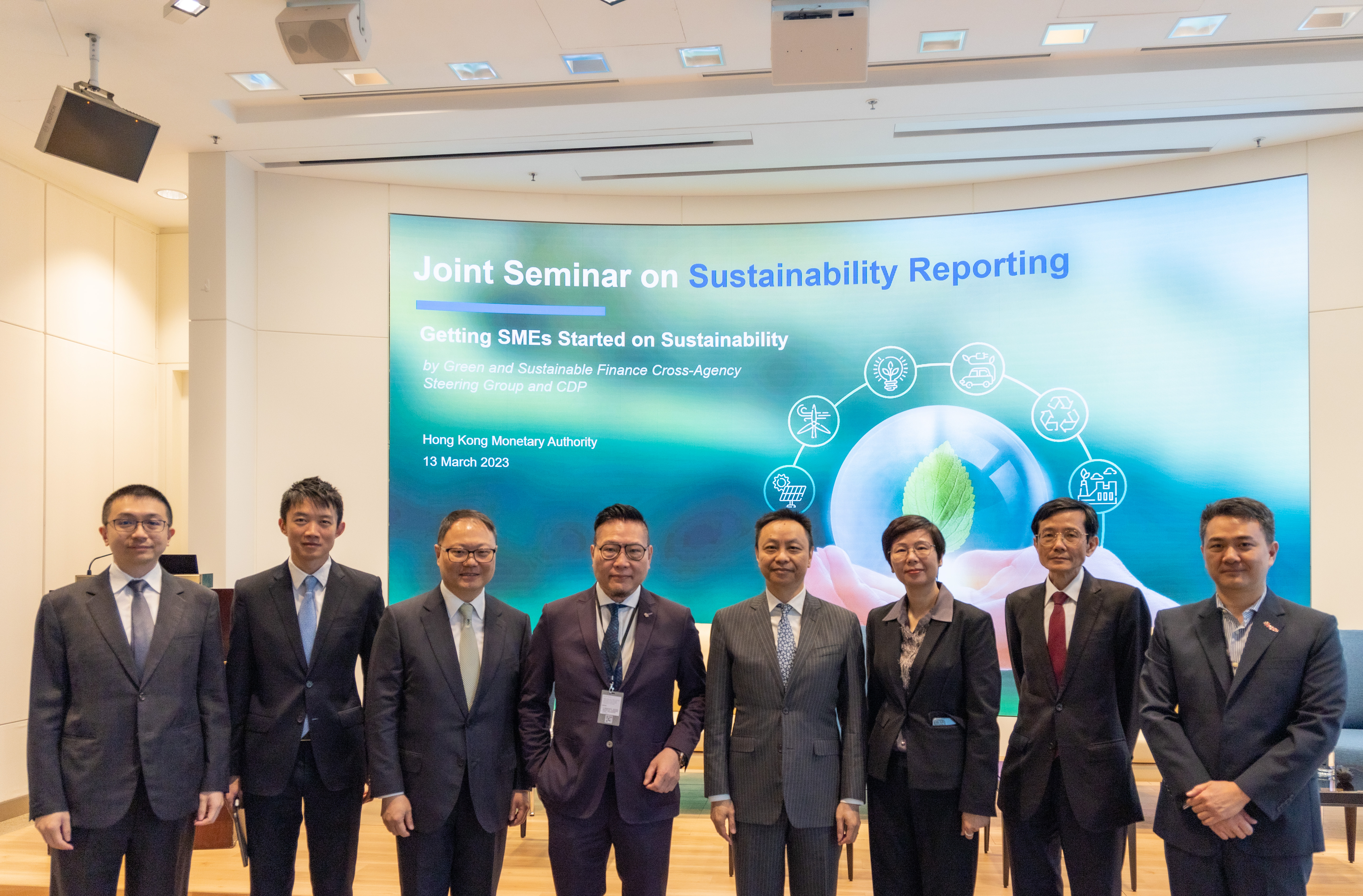 (From left to right) Head of Carbon and ESG Products of the Hong Kong Exchanges and Clearing Limited, Mr Ken Chiu; Head of Market Development Division of the HKMA, Mr Kenneth Hui; CEO of Zurich Insurance Company Limited and Chairman of Task Force on Green Insurance of the Hong Kong Federation of Insurers, Mr Eric Hui; President of the Chinese Manufacturers' Association of Hong Kong, Dr Allen Shi;  Deputy Chief Executive of the HKMA, Mr Darryl Chan; Managing Director, Head of Risk Management of Citibank Hong Kong Limited, Ms Cindy Pau; Chief Financial Officer of HK Electric Investments, Mr Kim Man Wong; and Managing Director, Asia Pacific of CDP, Mr Donald Chan are pictured at seminar on sustainability reporting jointly organised by the Steering Group and CDP on 13 March.
Deputy Chief Executive of the HKMA, Mr Darryl Chan, gives welcome remarks at the seminar.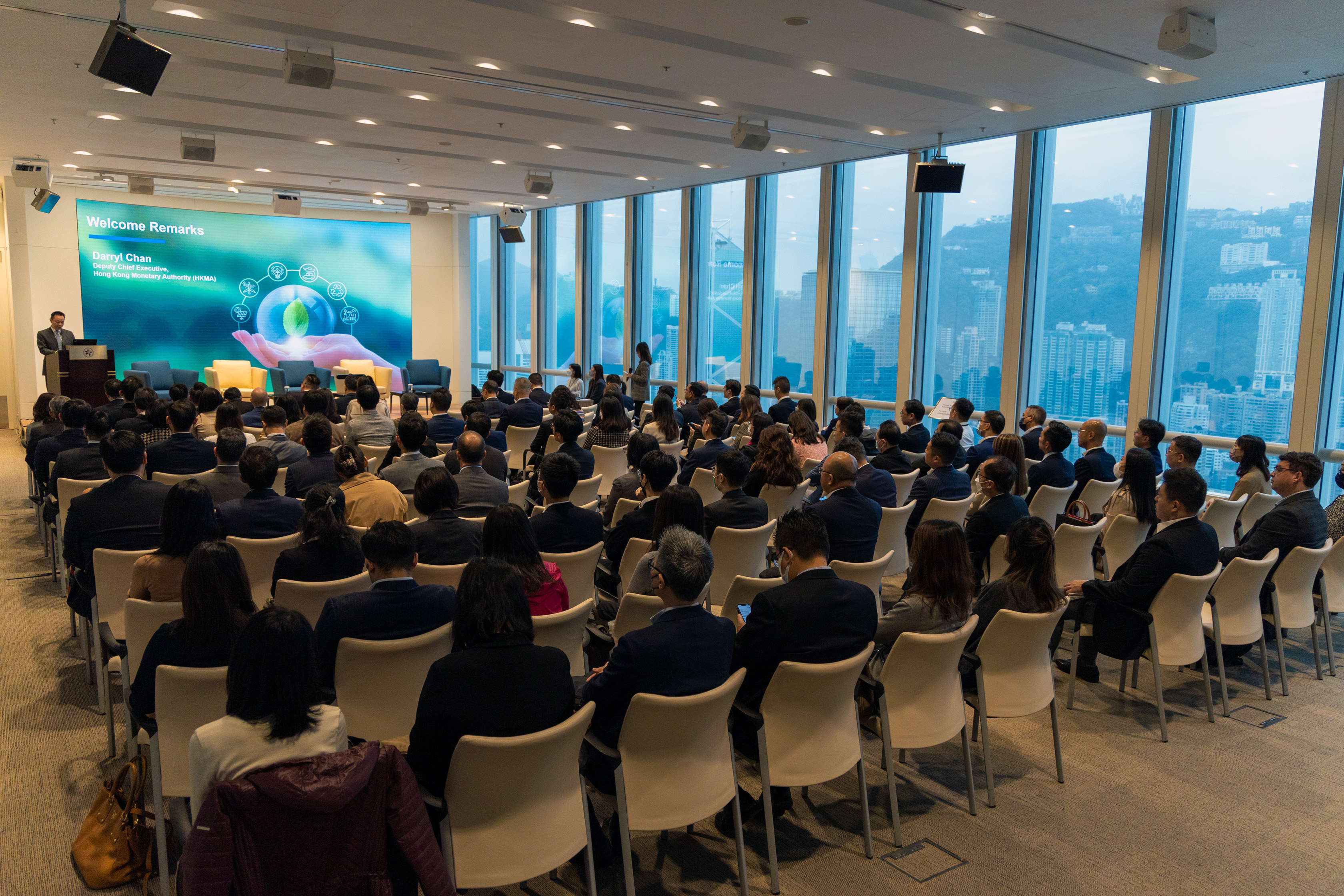 Around 500 on-site and online participants attend the seminar.
Note: The SME Questionnaire was developed by the Steering Group and CDP to aid SMEs' sustainability reporting processes, and raise their sustainability visibility to lenders, investors and supply chain clients so to better access sustainability financing.  It will also facilitate financial institutions' collection and assessment of company-level data for risk assessment and relevant business decisions.  It is the first cross-sector reporting template designed for first-time reporting corporates in Hong Kong, especially SMEs, and is aligned with the TCFD framework. The template comes in three versions (Annexes 1 to 3) with different level of granularity, to cater for variation in the reporting corporates' size and sophistication.  The Steering Group and CDP also developed comprehensive guidance (Annex 4) and learning materials (Annex 5) for the use of the template.  The Steering Group will continue to review and update the questions periodically with CDP's assistance, in line with global standards. 
Annex 1 – Questionnaire for Micro Enterprises
Annex 2 – Questionnaire for Small Enterprises
Annex 3 – Questionnaire for Medium Enterprises
Annex 4 – Questionnaire guidance
Annex 5 – General teach-in on climate risks and terminology
***************
About the Steering Group
Established in May 2020, the Steering Group is co-chaired by the Hong Kong Monetary Authority and the Securities and Futures Commission. Members include the Environment and Ecology Bureau, Financial Services and the Treasury Bureau, Hong Kong Exchanges and Clearing Limited, Insurance Authority and the Mandatory Provident Fund Schemes Authority. The Steering Group aims to coordinate the management of climate and environmental risks to the financial sector, accelerate the growth of green and sustainable finance in Hong Kong and support the Government's climate strategies.
About CDP
CDP is a global non-profit organisation that runs the world's environmental disclosure system for companies, cities, states and regions. Founded in 2000 and working with more than 680 financial institutions with over US$130 trillion in assets, CDP pioneered using capital markets and corporate procurement to motivate companies to disclose their environmental impacts, and to reduce greenhouse gas emissions, safeguard water resources and protect forests. Nearly 20,000 organisations around the world disclosed data through CDP in 2022, including more than 18,700 companies worth half of global market capitalisation, and over 1,100 cities, states and regions. Fully TCFD aligned, CDP holds the largest environmental database in the world, and CDP scores are widely used to drive investment and procurement decisions towards a zero carbon, sustainable and resilient economy. CDP is a founding member of the Science Based Targets initiative, We Mean Business Coalition, the Investor Agenda and the Net Zero Asset Managers initiative.