(Translation)
Last Sunday (14 May), as a member of the Hong Kong Special Administrative Region delegation, I attended the Belt and Road Forum for International Cooperation in Beijing.  Let me share with you some of my thoughts in this article.
Judging by the number and ranking of the participants, it was a truly high-level summit.  With as many as 1,500 participants from over 130 countries and 70 international organisations, including nearly 30 foreign heads of state and government, the event is a clear testament that the Belt and Road (B&R) Initiative is highly regarded by and receives broad recognition from countries all over the world.  President Xi Jinping said in his address that the B&R Initiative represented an open and inclusive platform for development, with equal participation by all countries and following the principles of "wide consultation, joint construction and shared benefits".
In just three years or so since the concept was first raised in autumn 2013, the B&R Initiative has gained support from the international community.  In particular, amid the current anti-globalisation, anti-free trade and xenophobic sentiment in some major Western industrial countries, a vision that rejects "closed-door" narrow-mindedness and introversion while vowing steadfastly to look at problems and find solutions from the lofty perspective of global development and governance requires much courage and a big commitment.
In the process of moving the B&R Initiative forward, Hong Kong cannot be left out.  With our unique advantages, we can indeed play a very important role.
After attending the Forum's plenary session in the morning, I joined a thematic session on Financial Connectivity in the afternoon as a speaking guest of a panel session.  It was like a gathering between old acquaintances.  Moderating the panel was Mr Zhu Ming, an old friend for years from his time as former Deputy Managing Director of the International Monetary Fund and former Deputy Governor of the People's Bank of China.  Among the seven other panelists, five of them were partners of the HKMA's Infrastructure Financing Facilitation Office (IFFO), including Ms Hu Xiaolian, Chairman of the Export-Import Bank of China; Mr Stephen Schwarzman, Chairman and CEO of Blackstone Group; Mr Yi Huiman, Chairman of the Industrial and Commercial Bank of China; Ms Jin Qi, Chairman of Silk Road Fund; and Mr Jose Vinals, Chairman of Standard Chartered PLC.
On "Financial Connectivity", the focus of the discussion was on how to facilitate investment and financing for B&R infrastructure projects.  I certainly didn't miss out on the opportunity to promote Hong Kong's strengths.
Firstly, Hong Kong has all the prerequisites as an investment and financing hub for the B&R Initiative.  Being the premier international financial centre in Asia, we can be a one-stop shop in providing various services, including investment and financing, professional services, and risk management, for infrastructure projects around the world and in particular within the region.  Hong Kong is the global offshore renminbi business hub.  It is also the best place for Mainland enterprises to test the water, and the ideal springboard from which they can "go out".  These put us in a very advantageous position for taking part in the B&R Initiative.
Furthermore, we have the first-mover advantage due to proximity.  Under "One Country", we are privileged to start early in leading the way, while under "Two Systems", we are able to bring the Mainland and international investors and other stakeholders together.  During the panel discussion, I specifically mentioned the establishment of IFFO by the HKMA in July last year.  In less than one year, we have lined up more than 60 heavyweight and like-minded organisations from home and afar as our partners, including multilateral development banks, infrastructure project developers and operators, banks, insurance companies and professional service firms, as well as institutional investors such as sovereign wealth funds, pension funds and private equity funds with total assets under management over US$4 trillion.  As a platform for sharing information and experience and increasing their mutual understanding, IFFO seeks to raise interest in infrastructure financing and facilitate infrastructure investment and financing activities and opportunities.
During the high-level Debt Financing and Investors' Roundtables held in March this year, IFFO developed a reference term sheet for infrastructure investment, setting out the potential risks associated with various types of infrastructure investments and the mitigation measures to help reduce the risks, including financial risk (e.g. exchange rate fluctuations), business risk (e.g. counterparty delinquency or default), construction risk and regulatory risk.  The reference term sheet is unprecedented in public and private sector investment and financing, as it contains a list of key requirements that both investors and operators have to understand and implement.  With the reference term sheet, project developers can address more specifically the concerns and expectations of investors when seeking funding, while investors can have more confidence in tapping the emerging markets.
Infrastructure financing, put simply, means matching "money looking for projects" and "projects looking for money".  Off to a good start, IFFO has laid a solid foundation for the development of infrastructure financing in Hong Kong.  The next step will be to make good use of the cluster of good partners at IFFO to create a more specific new platform that will be instrumental in matching capital and large-scale infrastructure projects and help bring investment projects to fruition, thereby creating greater and more opportunities for the financial and professional services industry in Hong Kong and contributing to the development of the B&R Initiative. 

Mr Norman Chan, Chief Executive of the Hong Kong Monetary Authority (second right), Professor K C Chan, Secretary for Financial Services and the Treasury (first right), Mr Vincent Lo, Chairman of Hong Kong Trade Development Council (second left), and Professor Frederick Ma, Chairman of MTR Corporation Limited (first left) attended the Belt and Road Forum for International Cooperation as members of the Hong Kong Special Administrative Region delegation.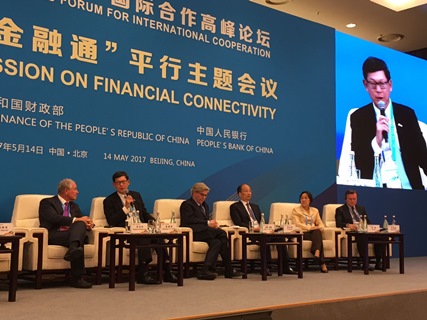 Mr Norman Chan, Chief Executive of the Hong Kong Monetary Authority (second left) highlighted Hong Kong's advantages and its role in moving the Belt and Road Initiative forward in the session on Financial Connectivity.
Norman Chan
Chief Executive
Hong Kong Monetary Authority

18 May 2017