February 1997
Hong Kong's Monetary Arrangements Through 1997 sets out the important legal documents and key recent speeches that define Hong Kong's monetary arrangements after 1997 under the framework of "one country, two systems".
Hong Kong's Monetary System After 1997
China's policies to maintain Hong Kong's status as an international financial centre and Hong Kong's autonomy in monetary and financial affairs after 1997 are clearly enshrined in the Joint Declaration, the Basic Law and the Agreed Minute on the Question of the Arrangements for the Transfer of the Exchange Fund of Hong Kong.
China has backed these commitments by practical co-operation with Hong Kong. As an illustration, it has openly expressed support for the Linked Exchange Rate System and the issue of Exchange Fund Notes with maturities straddling 1997. The Hong Kong Monetary Authority and the People's Bank of China (China's central bank) also work closely on matters of common concern, including on-going discussions on monetary issues and the establishment of a link between China's and Hong Kong's payments systems.


---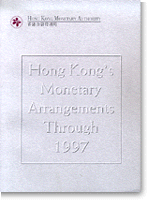 ---
Table of contents
Introduction
Major documents
The Joint Declaration of the Government of the United Kingdom of Great Britain and Northern Ireland and the Government of the People's Republic of China on the Question of Hong Kong (Annex I: Part V and Part VII)
The Basic Law of the Hong Kong Special Administrative Region of the People's Republic of China (Article 106 and Articles 109 to 116)
The Agreed Minute on the Question of the Arrangements for the Transfer of the Exchange Fund of Hong Kong
Speeches
Monetary Relations between China and Hong Kong
Chen Yuan, Deputy Governor, People's Bank of China
10 September 1996
Hong Kong's Monetary Scene: Myths and Realities
Joseph Yam, CBE, JP, Chief Executive, Hong Kong Monetary Authority
10 September 1996
Hong Kong 1997: Sense and Sensibilities
Donald Tsang, OBE, JP, Financial Secretary, Hong Kong
30 September 1996
Hong Kong's Financial Prospects after 1997
Dai Xianglong, Governor, People's Bank of China
30 September 1996
Strengthening Financial Co-operation to Promote Economic Prosperity and Stability
Dai Xianglong, Governor, People's Bank of China
13 November 1996
Hong Kong Monetary Affairs: Policy Issues
Joseph Yam, CBE, JP, Chief Executive, Hong Kong Monetary Authority
14 February 1997