IFC, a member of the World Bank Group, today (28 June) signed an agreement with Eastspring Investments, the Asian asset management business of Prudential plc, to raise $500 million for an innovative IFC programme that mobilises funds from institutional investors for infrastructure projects in emerging markets. Eastspring is the first Asian investor to participate in the programme, known as Managed Co-lending Portfolio Program(MCPP) Infrastructure. The signing ceremony was hosted by Norman Chan, Chief Executive of the Hong Kong Monetary Authority (HKMA).
The programme seeks to raise $5 billion from global institutional investors to modernise infrastructure in emerging markets by 2021, opening up a new stream of capital flows to improve power, water, transportation, and telecommunications systems in developing countries.
"Building sustainable infrastructure strengthens economies, allows for cross-border business, and helps create new markets," IFC Vice President and Treasurer, Jingdong Hua said at Wednesday's signing. "This new partnership with Eastspring will help bring reliable power, roads, and other critical infrastructure to areas where they are urgently needed. IFC will continue to work with governments and investors to mobilise additional resources for infrastructure development in developing countries."
"We look forward to working with IFC on this initiative. As a business with a strong focus in the developing world, we have long been committed to realising the full growth and development potential of emerging markets.  Raising awareness and boosting infrastructure investment is a crucial part of that and we are always looking for innovative and sustainable ways to provide attractive long term returns for our clients.  This partnership enables us to make a significant contribution to the economies and communities of developing countries while investing in infrastructure projects that deliver compelling returns for our clients," said Virginie Maisonneuve, Chief Investment Officer of Eastspring Investments.
In most developing countries basic infrastructure is failing, insufficient, or non-existent—compromising livelihoods and holding back economies. More than 1.2 billion people worldwide have no access to electricity. More than 660 million people don't have a clean source of drinking water and one in three people worldwide lack access to sewage infrastructure.  With the number of people living in cities in Asia estimated to double by 2030, the infrastructure deficit will only become larger.
Under the agreement IFC will originate transactions and provide Eastspring with co-lending opportunities in all deals that fit with Eastspring's investment strategy. 
Commenting on this partnership, Tony Adams, Infrastructure CIO at Eastspring Investments said, "The G20 and other global institutions have been calling on multilateral lenders and the private sector to find ways to help close the global gap in infrastructure funding. The structure of this partnership breaks new ground in providing a credit enhanced platform for our clients to participate in a portfolio of emerging market infrastructure loans.  It also develops our access and capability to lend directly to compelling infrastructure projects." 
"I am delighted to host the signing ceremony between IFC and Eastspring, both of whom are valuable partners of the HKMA Infrastructure Financing Facilitation Office (IFFO)", said Norman Chan, Chief Executive of the HKMA. "Trillions of dollars a year are required to bridge the infrastructure gap in emerging markets, and it is impossible for the public sector alone to fulfil such needs without substantially drawing in private sector capital. Through the IFFO platform, we look forward to collaborating more closely with public and private sector stakeholders, with a view to developing a more conducive environment in Hong Kong for facilitating infrastructure investment and financing."
MCPP Infrastructure is designed for institutional investors seeking to increase their exposure to emerging markets infrastructure. Through the programme, IFC originates, approves, and manages a portfolio of loans that mirrors IFC's own portfolio in infrastructure.
With support from the Swedish International Development Cooperation Agency (Sida), IFC provides a limited first-loss guarantee on the programme's investments to meet the risk-reward profile that institutional investors require. The other first mover partnership under the MCPP Infrastructure programme is the global insurance company Allianz.
Media contacts
About IFC
IFC, a member of the World Bank Group, is the largest global development institution focused on the private sector in emerging markets. Working with more than 2,000 businesses worldwide, we use our capital, expertise, and influence to create markets and opportunities in the toughest areas of the world. In FY16, we delivered a record $19 billion in long-term financing for developing countries, leveraging the power of the private sector to help end poverty and boost shared prosperity. For more information, visit http://www.ifc.org/
About Eastspring Investments
Eastspring Investments, part of Prudential Corporation Asia, is Prudential's asset management business in Asia. With operations in 10 Asian markets as well as offices in North America and Europe), we have almost 2,500 employees and US$146 billion in assets under management (as of 31 December 2016). We were named Asia's leading retail fund manager for 2016 in an annual survey by Asia Asset Management. The annual survey ranks participating fund managers in Asia, ex Japan, Australia and New Zealand, based on assets sourced in the region as of June 30, 2016. For more information on Eastspring Investments, please visit: http://www.eastspring.com/
About IFFO
As part of the HKMA, IFFO's mission is to facilitate infrastructure investments and their financing by working with a cluster of key stakeholders. The functions of IFFO are:
Providing a platform for information exchange and experience sharing;
Building capacity and knowledge on infrastructure investments and financing;
Promoting market and product development; and
Facilitating infrastructure investment and financing flows.
By establishing IFFO, the HKMA can play a valuable role as a catalyst in the facilitation of infrastructure investments and their financings with its mandate to promote Hong Kong as an international financial centre. For more information about IFFO, please visit http://www.iffo.org.hk/
Stay Connected 
http://www.instagram.com/ifc_org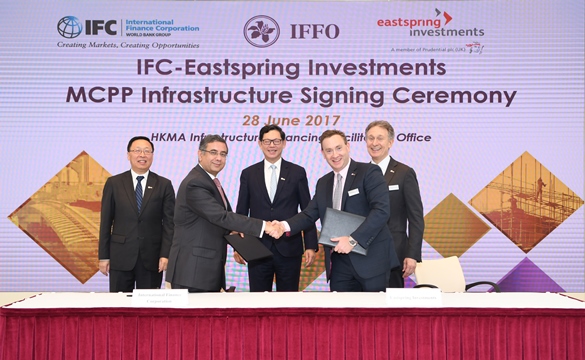 Mr Vivek Pathak, Director, East Asia & the Pacific, International Finance Corporation, (second from left) and Mr Tony Adams, Chief Investment Officer, Infrastructure, Eastspring Investments (second from right) sign an agreement on the MCPP Infrastructure Programme. The signing ceremony is witnessed by Mr Jingdong Hua, Vice President and Treasurer, International Finance Corporation (first from left), Mr Norman Chan, Chief Executive, Hong Kong Monetary Authority (centre), and Mr Donald Kanak, Chairman, Eastspring Investments (first from right).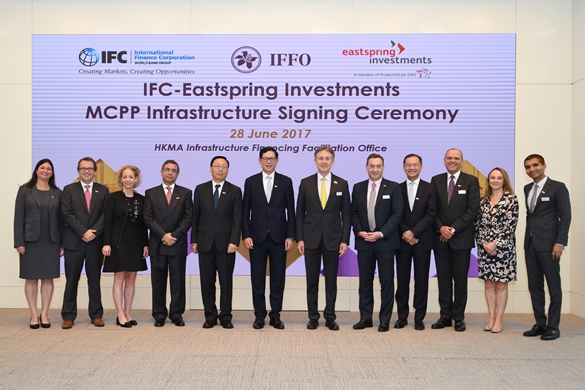 Mr Norman Chan, Chief Executive, HKMA (sixth from left); Mr Jingdong Hua, Vice President and Treasurer, International Finance Corporation (fifth from left); Mr Donald Kanak, Chairman, Eastspring Investments (sixth from right) and other representatives from the HKMA, IFC and Eastspring Investments.