Mr Norman T.L. Chan, Chief Executive of the Hong Kong Monetary Authority (HKMA), was in Frankfurt on 28 September to promote Hong Kong's role in capitalising the rising China opportunities.
The seminar led by Mr Chan on "China opportunities: The Trends of RMB Internationalisation and Belt and Road Strategy" attracted an audience of over 200 attendees from German authorities, financial institutions and corporates.
In his speech delivered at the seminar, Mr Chan said, "As Mainland corporates continue to venture into overseas markets, China's outward investments have been on a steady rise in recent years.  With the benefit of greater connectivity brought forth by the Belt and Road Initiative, the trend of China capital 'going-out' will continue to accelerate.  Germany is China's principal trading partner in the European Union, with nearly EUR 163 billion worth of bilateral trade in 2015.  Multinational companies in Germany can make use of Hong Kong to access the growing opportunities on the Mainland and to explore investments and their financing in infrastructure and related projects along the Belt and Road region."
The seminar included a panel discussion joined by senior representatives from financial institutions, and a multinational corporation to discuss the emerging trends of China's growth and how the most recent establishment of the Infrastructure Financing Facilitation Office in Hong Kong will provide a useful springboard for overseas corporations to conduct infrastructure investment and financing along the Belt and Road region.
The seminar was part of the "Think Asia, Think Hong Kong" promotion programme organised by the Hong Kong Trade Development Council in Frankfurt.
Hong Kong Monetary Authority
29 September 2016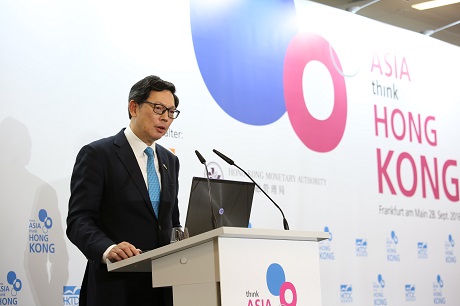 Mr Norman T.L. Chan, Chief Executive of the Hong Kong Monetary Authority speaks at the seminar "China Opportunities: RMB Internationalisation and the Belt and Road Initiative" in Frankfurt.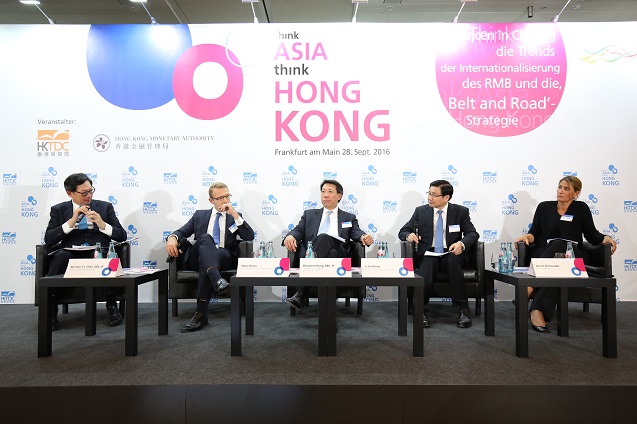 Mr Norman T.L. Chan, Chief Executive of the HKMA (far left) leads the panel discussion at the seminar. Panel members include (from left to right): Mr Steve Gross, Senior Managing Director, Macquarie Infrastructure and Real Asset; Mr Benjamin Hung, Regional Chief Executive Officer, Greater China and North Asia, Standard Chartered Bank (HK) Ltd; Mr Li Jiuzhong, Executive Director and Chief Risk Officer, Bank of China (Hong Kong) Ltd; and Ms Gerrit Schneider, Chief Financial Officer Global Growth Europe, Manager Investor Relations, General Electric.