The Hong Kong Mortgage Corporation Limited (HKMC) today (Friday) collaborated with six banks and five non-governmental organisations (NGOs) to launch the Microfinance Scheme ("Scheme") to extend microfinance loans and also offer ancillary support facilities to the borrowers in Hong Kong.
Among the six participating banks, Bank of Communications Hong Kong Branch, Wing Lung Bank and Bank of East Asia today start to receive applications under the Scheme.  Bank of China (Hong Kong), Nanyang Commercial Bank and Citibank Hong Kong will begin to receive applications later this year when their systems and operational arrangements are in place.  The five participating NGOs are the Hong Kong Federation of Youth Groups, the Society of Rehabilitation and Crime Prevention, Hong Kong, YMCA of Hong Kong, Hong Kong Young Women's Christian Association and the Hong Kong Sheng Kung Hui Lady MacLehose Centre.
The Scheme offers three categories of loans, namely Micro Business Start-up Loan, Self-employment Loan and Self-enhancement Loan.  The target borrowers are business starters, self-employed persons and those wanting to achieve self-enhancement through training, upgrading of skills or securing professional certification.  The maximum amount for each loan in these categories is HK$300,000, HK$200,000 and HK$100,000 respectively.  The maximum loan tenor is five years.  The interest rate is not more than 9% p.a. for general borrowers and not more than 8% p.a. for borrowers who can provide a third-party guarantee.  Borrowers may enjoy a principal repayment holiday for up to 12 months.  More details are set out in Annex.
At the launch ceremony for the Scheme today, the Chairman of the HKMC and Financial Secretary, Mr John C Tsang said, "The Microfinance Scheme will run for a pilot period of three years, with a total loan amount tentatively capped at HK$100 million.  After the Scheme has been in operation for some time, the HKMC will review its effectiveness and scale.  I am very pleased to see that different sectors of the community are very supportive of this pilot scheme.  The proactive participation of banks and NGOs has proved that the government, business sector and community are sharing a common goal to strengthen the social capital of Hong Kong.  Every journey begins with a first step.  Although the size of microfinance loans is somewhat modest, I believe the loans can still provide a good measure of assistance to the borrowers."
The Scheme will run on a self-sustaining basis for a trial period of three years.  Applicants must be aged 18 or above, not subject to any bankruptcy order or proceedings at the time of application.  For public enquiries, please call the Microfinance Hotline: 2536 0707 or visit the website of the HKMC (www.hkmc.com.hk).
The Hong Kong Mortgage Corporation Limited
29 June 2012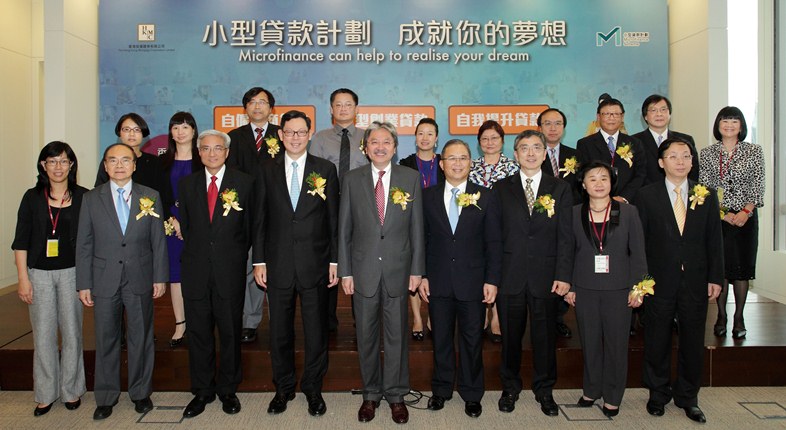 Chairman of the HKMC and Financial Secretary, Mr John C Tsang (centre in the front row), today officiates at the launch ceremony for the Microfinance Scheme.