(Translation)
On 15 and 16 August, the HKMA and the State-owned Assets Supervision and Administration Commission of the State Council (SASAC) co-organised the 'Connecting Belt & Road, Capturing Opportunities Together' High-level Roundtable.  The Mainland delegation was led by SASAC's Secretary General Mr Yan Xiaofeng, and comprised of senior executives from ten Central State-owned Enterprises (CSoEs) 1. At the Roundtable, the delegation had an in-depth discussion with the HKMA and leaders from the financial, business and professional services sectors in Hong Kong on how Hong Kong could facilitate CSoEs' investment and expansion in Belt & Road countries.
The attendees at the Roundtable were of very high calibre, with over 30 senior executives including chairmen, general managers and heads of international business from various CSoEs.  CSoEs are state-owned enterprises supervised and administered by the Chinese Central Government.  Apart from making active contributions to the nation's economic development, they also need to consider their commercial and business interests.  In fact, each and every investment project by CSoEs is subject to stringent review by the SASAC to ensure the projects generate reasonable investment returns.  As CSoEs conduct more and more overseas investment activities, their demand for financing and professional services would continue to increase.
The ten CSoEs joining the Roundtable mainly engage in the energy, transport and construction industries, with total assets amounting to RMB10.5 trillion by my rough calculation!  The HKMA has arranged three discussion sessions for them.  The theme of the first session revolved around 'Connectivity with Mainland China and Abroad', 'Advantages and One-stop Service of Hong Kong's Financial Markets' and 'Business Focuses and Challenges of CSoEs in "Going-out"'.  Guest speakers included Dr Victor Fung (Group Chairman of Fung Group and the Advisor of the HKMA Infrastructure Financing Facilitation Office (IFFO)), Mr Gao Yingxin (Vice Chairman and Chief Executive of Bank of China (Hong Kong) Limited), and Mr Charles Li (Chief Executive of HKEX).  The theme of the second session was 'Hong Kong as a Professional Services Hub to Support CSoEs' "Going-out"'.  Mr Rimsky Yuen (former Secretary of Justice of HKSAR), Mr Marvin Chen (President of Hong Kong Institute of Architects), Mr Thomas Leung (Mainland China & Hong Kong Deputy Markets Leader of PwC) and Ms Winnie Tam (Senior Counsel) were invited to speak on the topic and share their insights on the unique advantages of Hong Kong's professional services.
During the Roundtable discussion, our Chief Executive Mr Norman Chan also mentioned to the participants that while there are many international financial centres in the world, Hong Kong has three unique, inimitable and non-replicable competitive advantages that enable it to successfully facilitate Mainland enterprises' 'going-out'.  These competitive advantages include (i) Hong Kong's strategic geographic location; (ii) the Central Government's support as well as free market and economic systems under the 'One Country, Two Systems' principle; and (iii) being the only jurisdiction in the world that truly applies a bilingual common law system with both Chinese and English as our official language.  There are many well-established Chinese and foreign businesses in Hong Kong, forming a business network that facilitates 'East meets West', which offers CSoEs numerous opportunities for overseas expansion.
The third session was a dialogue between international institutional investors and senior executives from CSoEs, covering topics such as the facilitating role of IFFO and the bankability and risk management of Belt & Road infrastructure projects.  The participants have taken this valuable opportunity to discuss the opportunities and difficulties they faced when investing in infrastructure projects and explored possible collaboration models in future.  This precisely coincides with the purpose of setting up IFFO, which is tasked as an effective bridge of communication, promoting mutual trust, and facilitating collaborations among Mainland enterprises and international stakeholders in infrastructure investment and financing projects.
As we all know, many CSoEs are already enormous in scale, with 48 of them listed on Fortune Global 500 in 2018.  As CSoEs become increasingly globalised, they are also at the forefront of the technology and know-how in many of their respective fields.   The investments by CSoEs in the Belt & Road infrastructure projects are of tens of billions of US dollars, and often require ongoing reinvestment and operating commitments of 10, 20, or even 30 years, in order to sustain returns on the capital invested.  Financing is thus an important issue for CSoEs in taking part in the Belt & Road Initiative.  In this regard, we made a few suggestions to the senior executives of the CSoEs:
First, CSoEs can make greater use of Hong Kong's financial markets and services.  This includes, for example, setting up a global business development and risk management unit and a corporate treasury centre, issuing debt, and developing green finance in Hong Kong.  The Government has introduced relevant measures to encourage such corporate activities in Hong Kong;
Second, CSoEs can consider bringing in international capital as appropriate when they 'go-out', which helps diversify their financing channels.  This will not only increase the flexibility on the sources of financing, but also allow their projects' equity and debt financing structures to be more internationalised.  At the same time, international capital can take part in Belt & Road projects by leveraging on CSoEs' vast wealth of expertise and experience in project construction and operations gathered over the years, thereby achieving a win-win for all.  In fact, since its establishment, IFFO has brought together 90 major infrastructure investment and financing stakeholders from Hong Kong, the Mainland and overseas.  The participating CSoEs at the Roundtable supported the use the network built by IFFO to explore how to bring in more international capital when 'going-out'.
To sum up, this Roundtable co-organised by the HKMA and the SASAC has provided the participants with a new and effective forum for dialogues.  We have received positive feedback from the participants, who all looked forward to further dialogues and collaborations with an aim to achieving concrete results.  Understandably, it is not easy to gather all these CSoE senior executives for a two-day programme in Hong Kong, but it has been a rewarding opportunity for having them to share their investment and operational experiences, and have in-depth exchanges with Hong Kong's top leaders in the financial, business, and professional services sectors in close quarters.  We look forward to continue working with SASAC closely to facilitate further collaborations between CSoEs and the Hong Kong business community, and to explore opportunities together.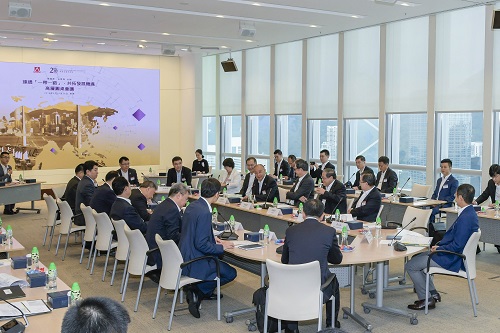 The 'Connecting Belt & Road, Capturing Opportunities Together' High-level Roundtable, co-organised by the HKMA and the State-owned Assets Supervision and Administration Commission of the State Council, is brought to a successful conclusion. Participants all look forward to further dialogues and collaborations with a view to achieving concrete results.
Vincent Lee
Executive Director (External)
Hong Kong Monetary Authority
23 August 2018
---
1 Including State Grid Corporation of China, China Datang Corporation, China National Energy Investment Group, China State Construction Engineering Corporation, China National Building Material Co., Ltd., China Nonferrous Metal Mining (Group) Co., Ltd., CRRC Corporation Ltd., China Communications Construction Co., Ltd., China Energy Engineering Group Co., Ltd., and China Reform Holdings Corporation Ltd.