(Translation)
Having told you the story of how we became the world's first-ever coin carts, we'd like to share with you some interesting stories about our daily work.
Although born as twins, we never work on the same beat.  Instead, we are dispatched separately to various locations, where we provide coin collection service for about a week each time.  The drivers come to fetch us from the depot early in the morning and we usually arrive at the scheduled locations about 15 minutes earlier so that we can start working punctually at 10 am.  Quite often people in the neighbourhood are already waiting for us!
In fact, the coin collection process is very simple.  Once on board, our customers only have to pass their spare coins to our operational staff who then place them into an automatic coin counting machine.  Within minutes, the machine will produce a print-out showing the total value of the coins counted.  Customers can pass the print-out to the cashier and choose to receive banknotes of equivalent value or add value to their Octopus cards.  How convenient it is!  There is also a Community Chest donation box inside each coin cart.  We often see kind-hearted people give their exchanged banknotes to charity.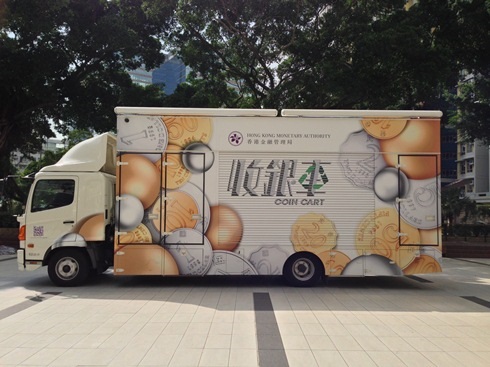 Now, you may wonder where all the collected coins end up at the close of each working day.  Well, upon our return to the depot, cash escort staff will verify the number of coins and pack them into batches.  Some of the coins are sent to supermarkets, convenience stores and other operators to meet their demand.  This makes coin circulation more efficient and helps protect our environment by reducing the need for minting new coins.
In the evenings after work, my sister and I always share some of our stories.  The one I love most happened on my first day and involved a man who happily approached me with a hand-cart in tow.  Inside the cart were a couple of old heavy-looking jute bags, bearing the Chinese character for "rice".  Why is he bringing me rice? – I asked myself.
The man was actually a restaurant owner, who had put all the coins he received over the years in rice bags instead of depositing them in banks.  The number of coins he collected was so many that they ended up filling up several big rice bags, and he indeed kept them alongside the real rice inside his restaurant.  After counting, the coins were worth over HK$100,000!
Not to be outdone, my sister excitedly told me her story about a group of volunteers from a charitable organisation.  While the coins they changed were also worth more than HK$100,000, there was one feature that set them apart – each and every one of the coins was worth HK$1!
"Does this organisation only accept HK$1 coins from donors?" I asked my sister; and she replied, "I thought so too, but it turns out the coins came from donation boxes placed at funeral parlours by the charity concerned.  In keeping with Chinese tradition, one-dollar coins are given in return for condolence gifts, and many people donate these coins as they leave the funeral parlour."
"What a clever and down-to-earth approach!" I exclaimed.
While my sister and I each claim our own story is the best, we both agree the most rewarding part is seeing people smiling as they leave the coin cart after using the service.  Some even joke they plan to reward themselves with a bigger dinner with the "extra" money.
However, as with "human" workers, we do have our share of hiccups at times.  Assorted items, ranging from false teeth, paper clips to rings and ear-rings, have been handed in accidentally by our customers.  So the staff have to remove any foreign items before putting the coins through the counting machines.
One more useful tip – we do not accept mouldy or blackened coins, old-design coins (for example, 10-sided five-dollar coins) and non-Hong Kong dollar coins, as our counting machines cannot recognise them.
To know where we are every week, you may visit the HKMA website for the coin cart schedule –
http://www.hkma.gov.hk/eng/key-functions/monetary-stability/notes-coins-hong-kong/coin-collection/.

Written by Ronnie and Mina, the two specially-assigned 'Observers' who go around the HKMA office in IFC, Central, collecting interesting facts and sharing with you from time to time.
25 May 2016