Themes
Key Contents

2018 New Series Hong Kong Banknotes

Introduce the thematic designs of the new series banknotes

Security Features

Demonstrate the security features of the 2018 New Series Hong Kong Banknotes

Dynamic shimmering pattern
Windowed metallic thread
Enhanced watermark
Fluorescent see-through denomination
Concealed denomination
Embossed feel

The Making of Banknote Paper

"Venture into" the manufacturing plant to experience "first-hand" the production process of banknote paper
Display raw materials for banknote paper making

Accessible Banknotes

Explain the HKMA's efforts in enhancing the accessibility features of banknotes to facilitate the visually impaired to differentiate the denominations of banknotes

Banknote Printing Process

"Venture into" the note printing plant to "take a peek" at the printing process
Try out the interactive game, "Banknote Printing Corps" to enhance understanding of the note printing process

Designs of Hong Kong Currency Notes and Coins

Obtained the electronic images of the designs of Hong Kong currency notes issued over the past 150 years and coins in circulation over the past 60 years from the Hong Kong Museum of History
Display the electronic images in an interactive way to facilitate visitors in comparing the designs and features of Hong Kong currency notes and coins over the years

Fun Facts about Notes and Coins

Highlight some fun facts about Hong Kong currency notes and coins
Cover history, law, daily life and other aspects

Notes and Coins in Circulation

Display the real exhibits of all notes and coins currently in circulation in Hong Kong, showcasing the "family portrait" of Hong Kong currency notes and coins

Coin Collection Programme

Introduce the Coin Collection Programme and the coin carts
Produce a mock display of the coin cart to allow visitors to have a close look at the facilities of the coin cart

Designing your Own $10 Note

Unleash your creativity by designing a unique $10 note

Genuine vs. Counterfeit Banknotes

Enhance visitors' understanding of the security features of banknotes by displaying real exhibits of counterfeit notes loaned by the Commercial Crime Bureau of the Hong Kong Police Force
12. Small Change, Big Ode
"Small Change, Big Ode" is a mosaic artwork of our world-famous Victoria Harbour by making use of Hong Kong coins. It was jointly created by a team of 10 Hong Kong Art School students in about six months. Coins of various hues were gathered by the team from various sources, including the HKMA's coin carts, banks, retail outlets, etc. The coins used range from sparkling uncirculated coins to well-used and worn pieces. In order to enhance the multi-layered effect, some parts of the artwork contain up to 15-16 layers of coins.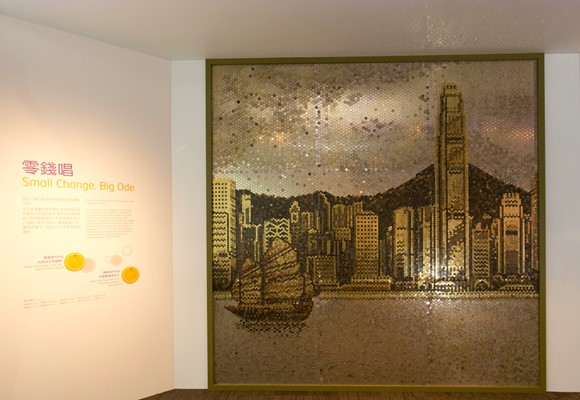 Key Facts
| | |
| --- | --- |
| Size | 3 metres by 3 metres |
| Weight | About 1,270 kg |
| Denominations of coins | 7 (including $10, $5, $2, $1, 50 cents, 20 cents and 10 cents) |
| Number of coins | 135,811 pieces |
| Total value of coins | HK$61,582.8 |
13. Chanting Notes
Using shredded currency notes that are no longer fit for circulation, the artists meticulously sort the confetti by hues and tones, and then transform them into granules, strips or sheets inside 2,018 pieces of see-through cubes. Through this painstaking process, the shredded currency notes are finally reincarnated into a Bauhinia tree suspended in mid-air, with lighting effects highlighting the beauty of the tree in all four seasons! The repetitive creation process is like chanting and orchestrating chapters of notes into a rhythmic composition.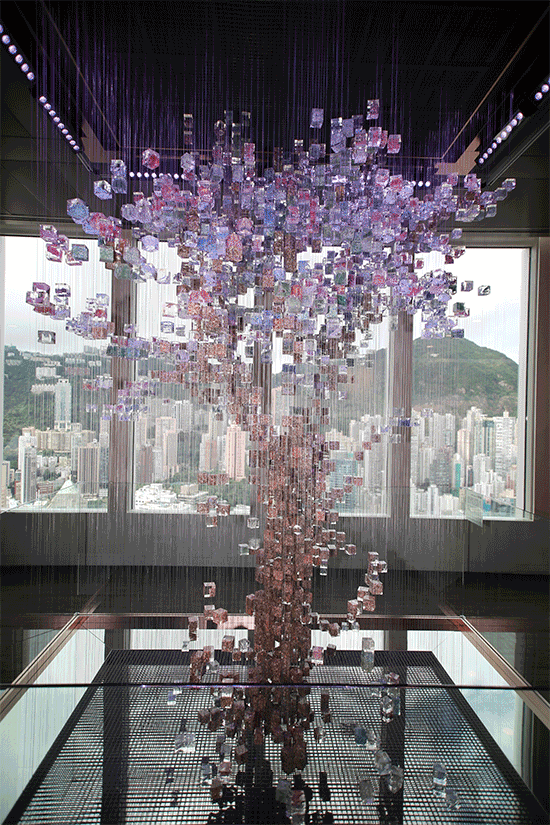 Key Facts
| | |
| --- | --- |
| Occupied area | 2.05 metres by 1.59 metres |
| Height | 3.25 metres |
| Denominations of shredded notes | 6 (including shredded $1,000, $500, $100, $50, $20 and $10 notes) |
| Number of cubes | 2,018 |
| Number of strings | 650 |