The HKMA hosted the first AML/CFT RegTech Forum on 22 November 2019. 
The event gathered various stakeholders in Hong Kong's AML/CFT regime and was attended by around 400 representatives of banks as well as government agencies, financial regulators and law enforcement agencies, together with global experts and firms in the application of technology, including artificial intelligence and data analytics.  Participants shared insights in grasping opportunities for the use of innovative technology to enhance the efficiency of both banks and the wider AML/CFT ecosystem.
Welcoming the group, Mr Arthur Yuen, Deputy Chief Executive of the HKMA, said, "The Forum, building on the positive results of the recent Financial Action Task Force evaluation of Hong Kong's AML/CFT regime, brings together the banking and technology sectors and stakeholders to further enhance effectiveness, which requires vision and aspiration because there are always new and emerging risks; criminals will exploit new technology to create terrible harm."   "The HKMA and the banking sector will continue to contribute to AML/CFT efforts in Hong Kong, and through our supervisory processes, regulations and guidance, we support banks' efforts to innovate and fully grasp the benefits of RegTech." Mr Yuen added.
In a series of panels and break-out sessions, participants shared experience and expertise in the application of Regtech to AML/CFT work in the banking sector and explored further collaboration among banks and various stakeholders.  Three break-out groups, namely "Accelerators", "Enablers" and "Collaborators", will keep up the momentum collectively by focusing on the following efforts in the next six to twelve months:
"Accelerators" : Applying an appropriate assessment framework that assists banks to review AML/CFT processes end-to-end for RegTech adoption and drive changes in the industry;

"Enablers" : Experimenting in "Lab sessions" for software innovations in areas including transaction monitoring and screening; and

"Collaborators" : Working to fulfill requirements, namely data, analytics, information delivery, collaboration as well as skills and expertise, to further enhance effectiveness of the AML/CFT ecosystem and the positive impacts of information and intelligence sharing.
Hong Kong Monetary Authority
22 November 2019
HKMA AML/CFT RegTech Forum, 22 and 25 November 2019 – Record of Discussion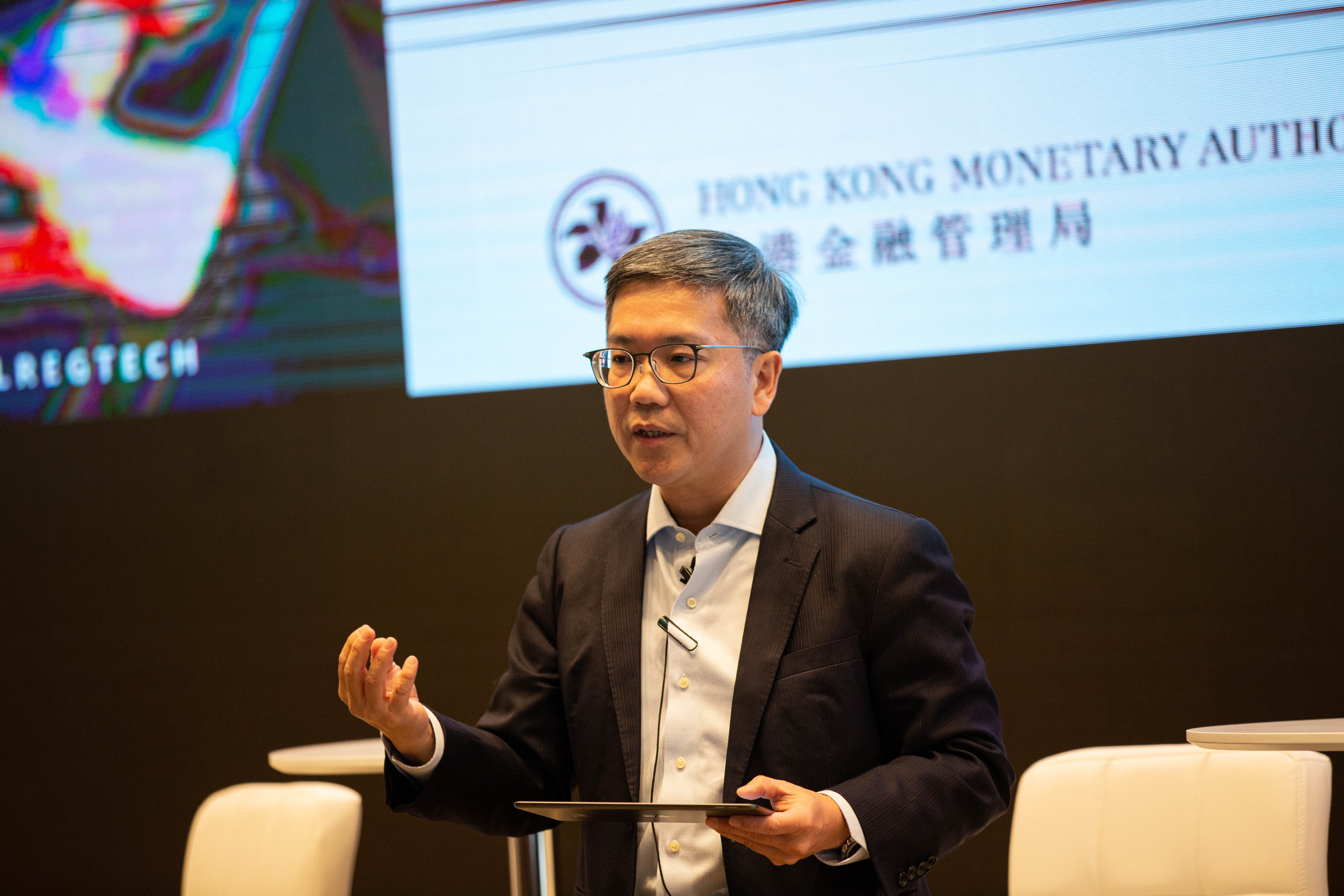 Mr Arthur Yuen, Deputy Chief Executive of the HKMA makes welcoming remarks at the first HKMA AML/CFT RegTech Forum.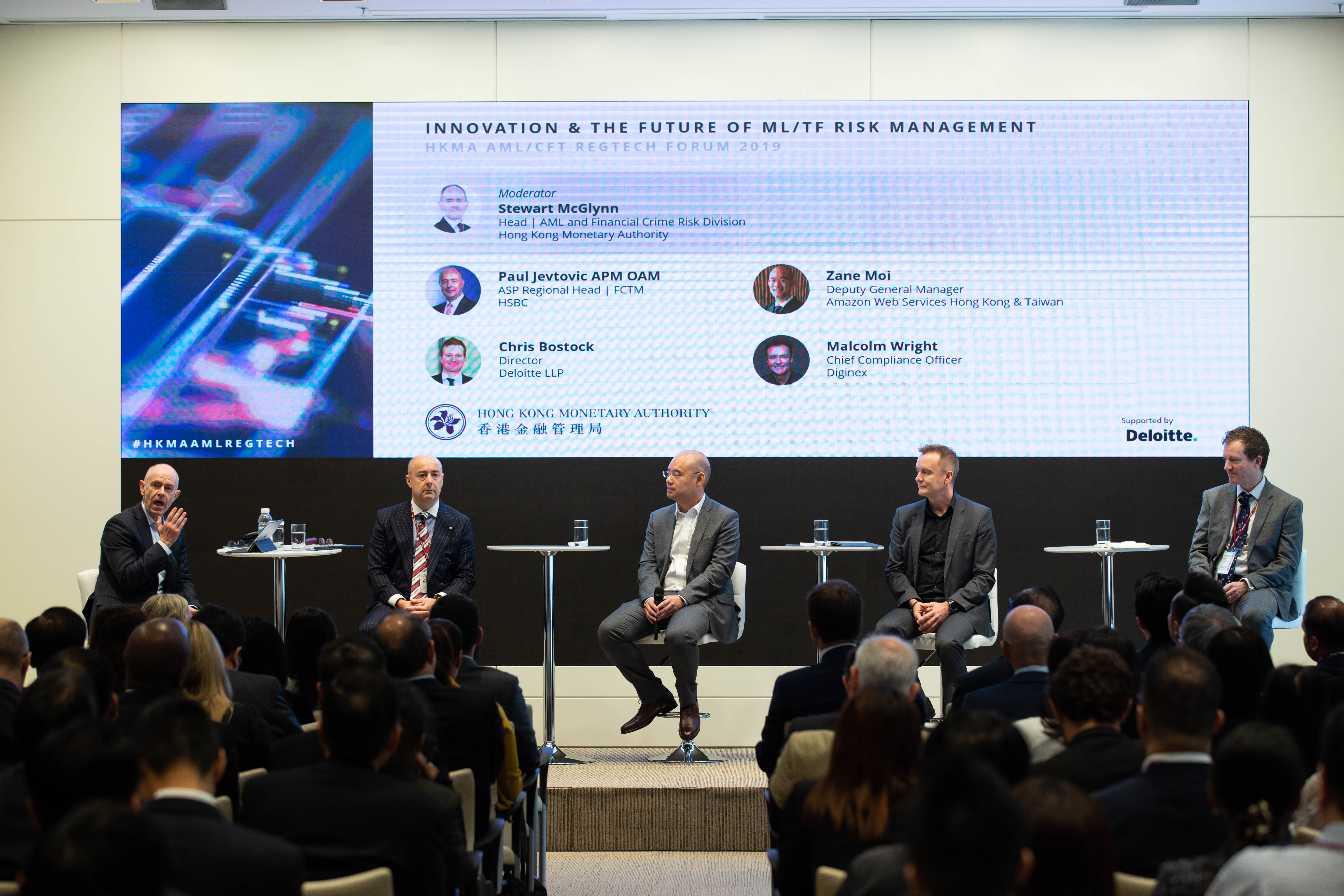 (From left to right – Panel 1) Mr Stewart McGlynn, Head (AML and Financial Crime Risk) of the HKMA; Mr Paul Jevtovic, Head of Financial Crime Threat Mitigation, Asia Pacific of The Hongkong and Shanghai Banking Corporation Limited; Mr Zane Moi, Deputy General Manager of Amazon Web Services Hong Kong & Taiwan; Mr Malcolm Wright, Chief Compliance Officer of Diginex and Mr Chris Bostock, Director of Deloitte share insights about innovation and the future of money laundering and terrorist financing risk management.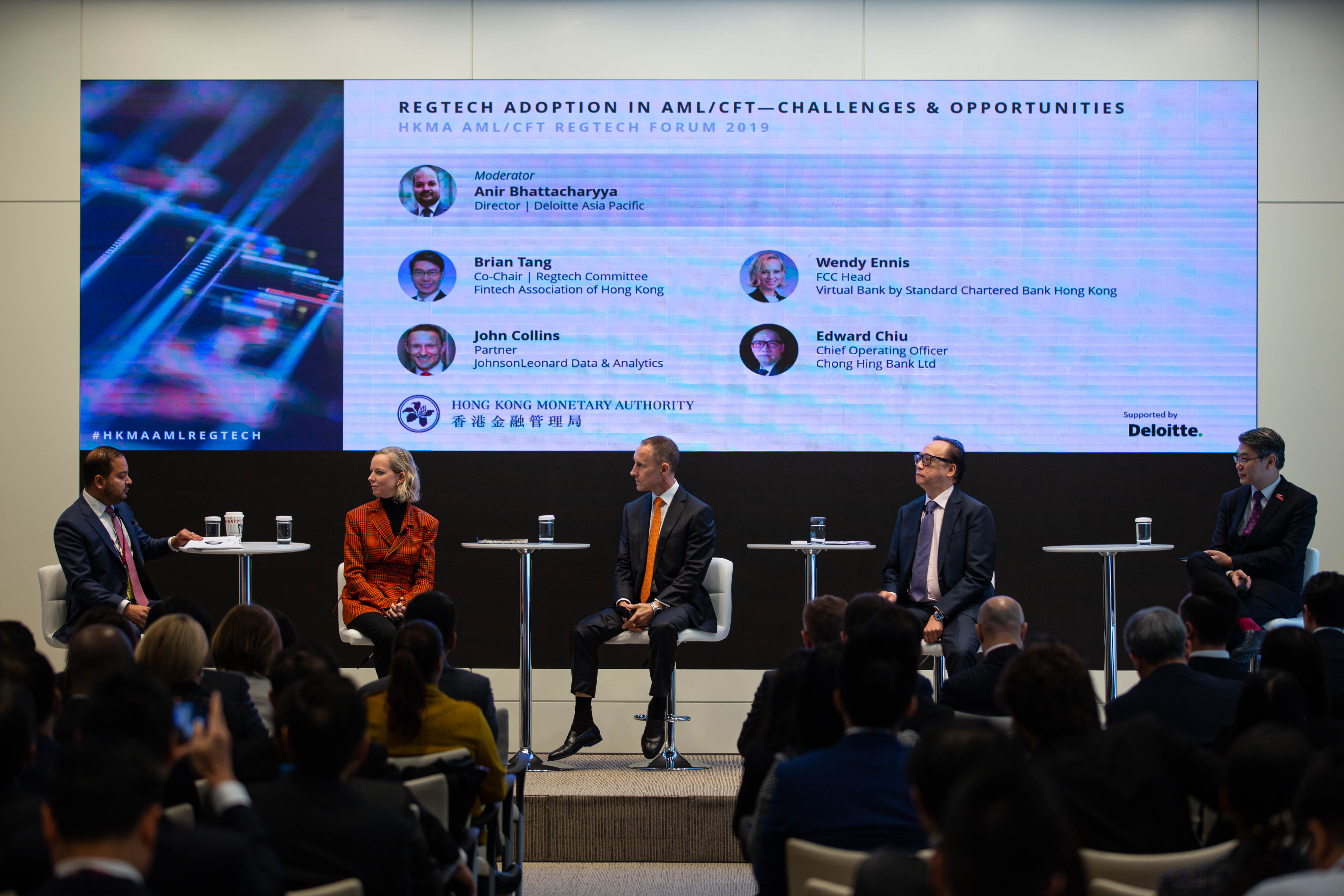 (From left to right - Panel 2) Mr Anir Bhattacharyya, Director of Deloitte; Ms Wendy Ennis, Head, Financial Crime Compliance of SC Digital Solutions Limited; Mr John Collins, Partner of JohnsonLeonard Data & Analytics; Mr Edward Chiu, Chief Operating Officer of Chong Hing Bank Limited and Mr Brian W Tang, Co-Chairman of the Fintech Association of Hong Kong's Regtech Committee discuss challenges and opportunities in adopting RegTech in AML/CFT.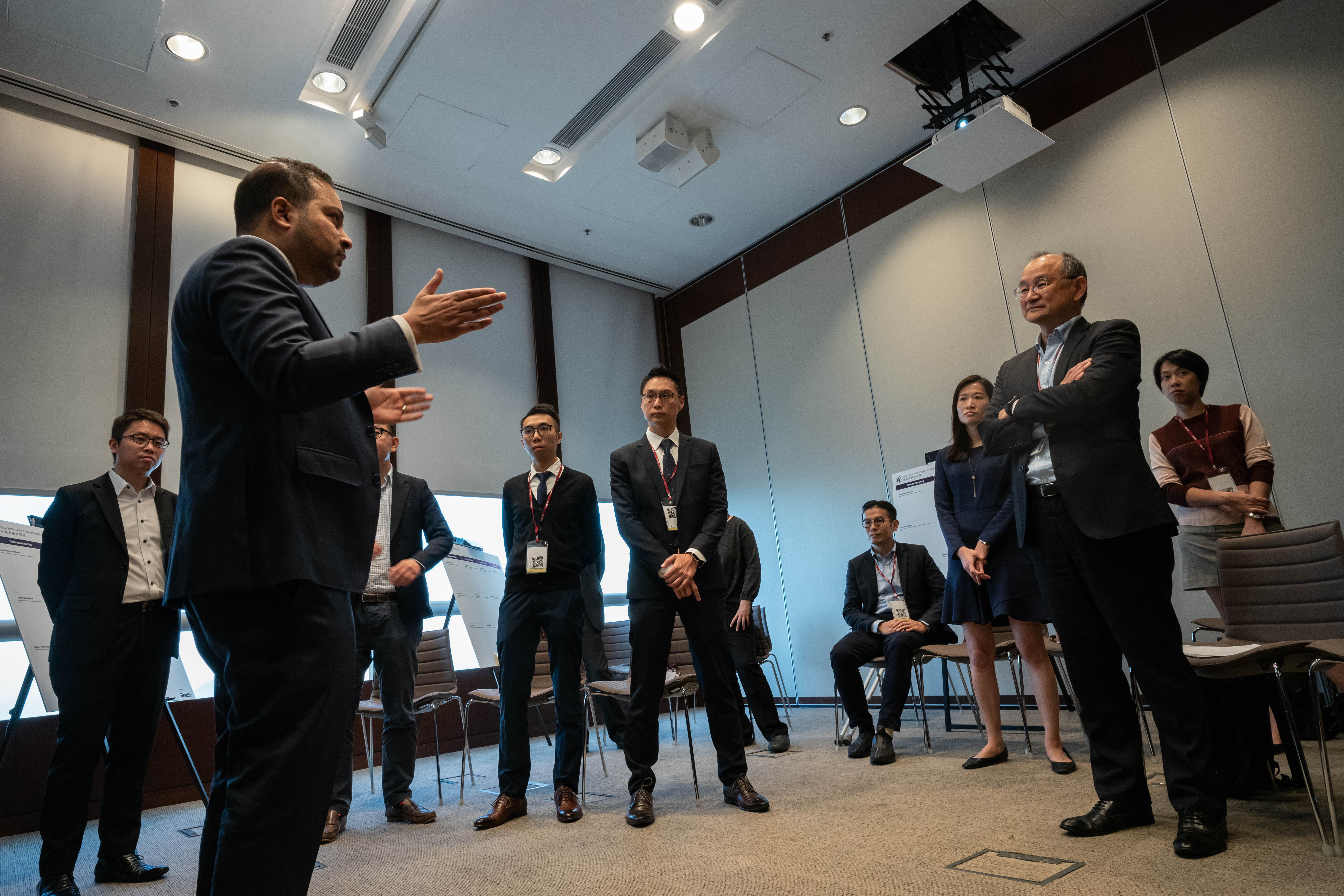 Participants have break-out group discussion on "pain points" in AML/CFT work and possible application of RegTech across various use cases and deploying technology to advance more proactive data and knowledge sharing.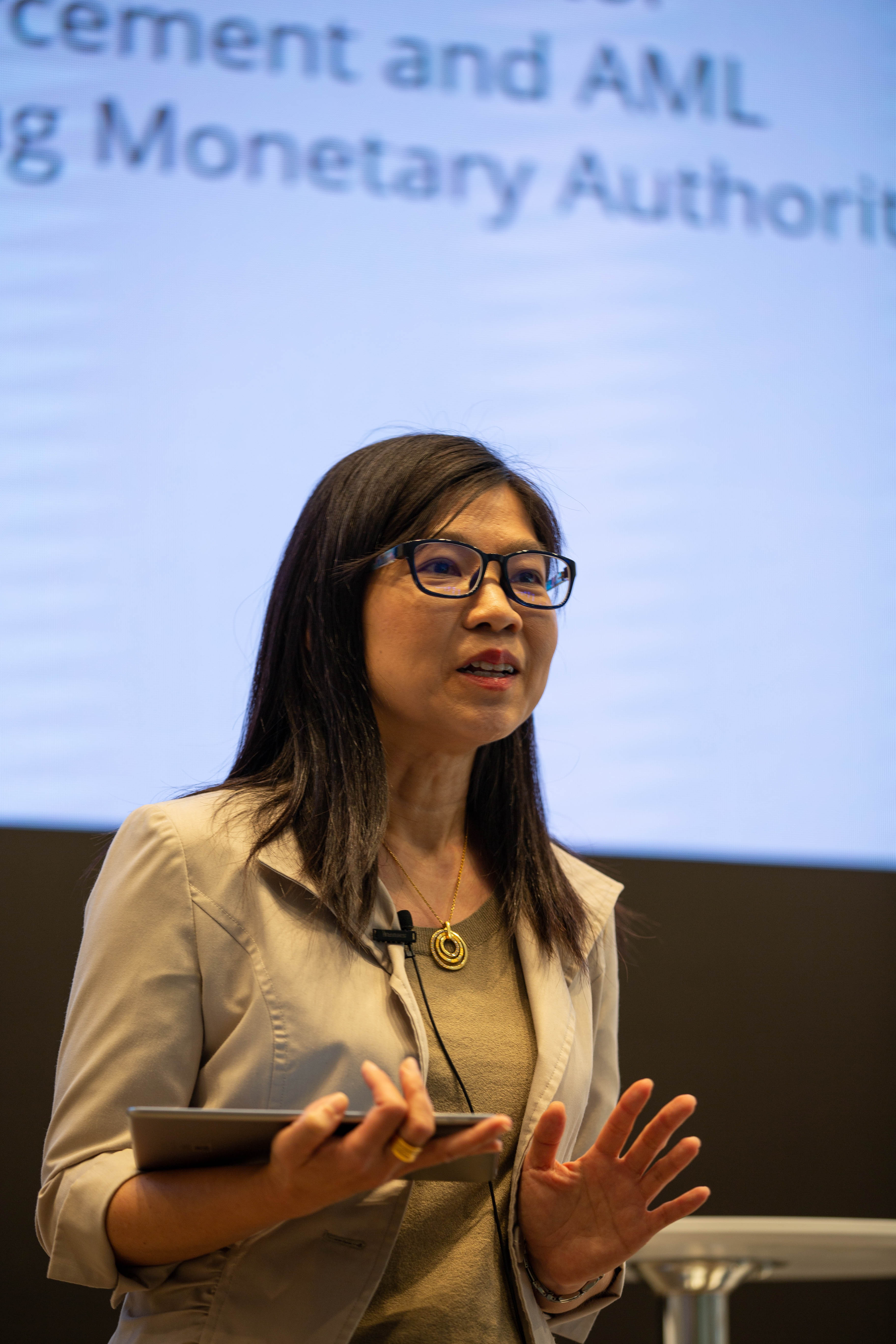 Ms Carmen Chu, Executive Director (Enforcement and AML) of the HKMA gives concluding remarks highlighting the follow-up actions to keep up the momentum and effectiveness of the AML/CFT efforts.