Beijing, December 20, 2016 — Chief Executive of the Hong Kong Monetary Authority (HKMA), Mr Norman Chan, and Chairman of the China Development Bank Corporation (CDB), Mr Hu Huaibang, signed a Memorandum of Understanding (MoU) with respect to establishing a strategic framework of co-operation to facilitate the financing of infrastructure projects via the Infrastructure Financing Facilitation Office (IFFO) platform.
Following CDB becoming an IFFO Partner in July this year and the signing of the MoU today, IFFO and CDB will closely collaborate to promote a more conducive environment for infrastructure investment and financing in Hong Kong, and will jointly facilitate beneficial development of the Belt and Road Initiative through exchanging information and experience in evaluating infrastructure projects, conducting promotion activities, and facilitating infrastructure financing transactions.
CDB is the world's largest development finance institution and the largest Chinese bank for foreign investment and financing cooperation, while Hong Kong possesses advantages as the largest offshore Renminbi ("RMB") business centre and international financial centre. CDB will continue to use Hong Kong as its main offshore platform for infrastructure investments.
As of October 2016, CDB's asset in Hong Kong exceeded US$50 billion, and the Bank has through Hong Kong completed 29 infrastructure projects with investments of over US$5 billion in Belt and Road countries.
CDB will avail more than US$10 billion worth of financing and business opportunities via the Hong Kong platform in the coming future. CDB also plans to expand its Hong Kong operation, increasing the number of staff to more than 210 in the next 2 years, up from 140 now.
Mr Norman Chan said, "I believe that through closer collaboration between CDB and the IFFO platform, CDB will make greater use of Hong Kong's advantages in conducting its overseas infrastructure financing and investments. And this would have a demonstration effect, attracting more mainland Chinese corporates to the Hong Kong platform for offshore financing and investments."
Mr. Hu Huaibang said, "As an international financial centre and the largest offshore RMB business centre, Hong Kong has unique advantages in developments under the Belt and Road Initiative and is the "super-connector" between Mainland China and the world. CDB will continue to play its role as a leading bank of the Belt and Road Initiative and further strengthen cooperation with the HKMA through the IFFO platform to jointly contribute to the implementation of the Belt and Road Initiative and the prosperity and stability of Hong Kong".
About IFFO
As part of the HKMA, IFFO's mission is to facilitate infrastructure investments and their financing by working with a cluster of key stakeholders. The functions of IFFO are:
providing a platform for information exchange and experience sharing;
building capacity and knowledge on infrastructure investments and financing;
promoting market and product development; and
facilitating infrastructure investment and financing flows.
By establishing IFFO, the HKMA can play a valuable role as a catalyst in the facilitation of infrastructure investments and their financings with its mandate to promote Hong Kong as an international financial centre.
For more information about IFFO, please visit http://www.iffo.org.hk/.
About CDB
CDB was founded in 1994 as a policy financial institution under the direct leadership of the State Council. It was officially defined by the State Council as a development finance institution in March 2015.
CDB has a registered capital of RMB 421.248 billion. Its shareholders include the Ministry of Finance of the People's Republic of China (36.54%), Central Huijin Investment Ltd. (34.68%), Buttonwood Investment Holding Co., Ltd. (27.19%) and the National Council for Social Security Fund (1.59%).
CDB provides medium- to long-term financing facilities that serve China's major long-term economic and social development strategies. By the end of 2015, its assets grew to RMB 12.3 trillion, with consistently outstanding market performance. Professional credit rating agencies including Moody's and Standard & Poor's have rated CDB at the same level as China's sovereign rate.
CDB is the world's largest development finance institution, and the largest Chinese bank for foreign investment and financing cooperation, long-term lending and bond issuance. It ranked 87th on the Fortune Global 500 list in 2015.
CDB currently has 37 primary branches and 3 secondary branches on the Chinese mainland, one offshore branch in Hong Kong and five representative offices in Cairo, Moscow, Rio de Janeiro, Caracas and London, with about 9,000 staff. Its subsidiaries include CDB Capital Co.,Ltd., CDB Securities Co.,Ltd., CDB Leasing Co.,Ltd. and China-Africa Development Fund Co.,Ltd..
For more information about CDB, please visit http://www.cdb.com.cn.
HKMA Infrastructure Financing Facilitation Office
China Development Bank
20 December 2016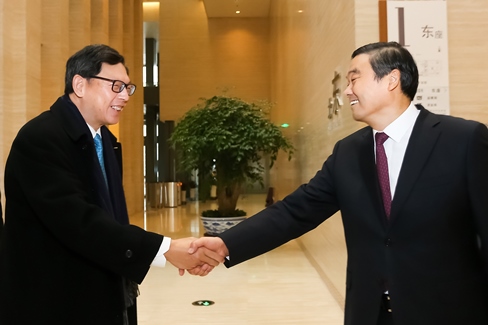 Mr Hu Huaibang, Chairman of CDB (right) greets Mr Norman Chan, Chief Executive of the HKMA (left).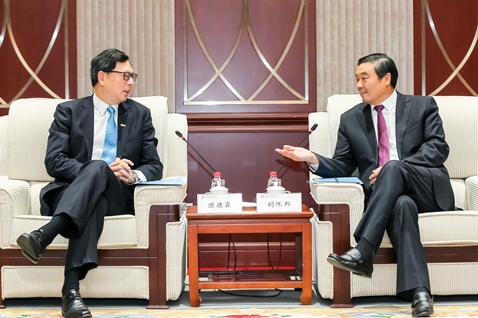 Mr Hu Huaibang meets with Mr Norman Chan.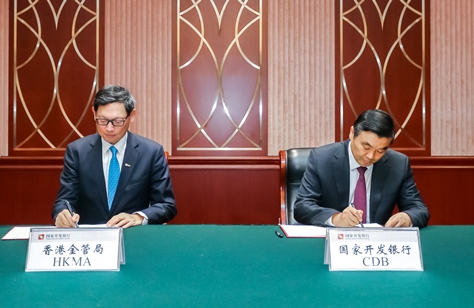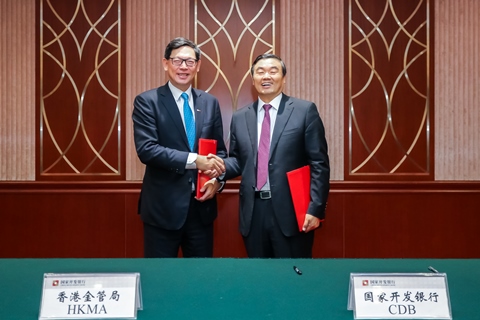 Mr Hu Huaibang and Mr Norman Chan sign a Memorandum of Understanding to foster collaboration between CDB and HKMA.