(Translation)
Wells Fargo employees covertly created more than two million deposit and credit card accounts for customers without their knowledge or permission in order to meet sales targets……the bank was fined US$185 million, 5,300 employees related to the incident were fired and its Chief Executive Officer retired in sorrow…… 
According to media reports, in September the US Department of Justice imposed a huge fine of US$14 billion on Deutsche Bank AG, Germany's largest bank, for the bank's misconduct in the selling of mortgage-backed securities prior to the outbreak of the financial crisis in 2008. The reports led to a drop of more than 8% in the bank's share price……
Earlier on, the UK had the most serious mis-selling incident in its history ever, involving a number of large UK banks being accused of making huge gains from mis-selling payment protection insurance (PPI) products.  Three large banks in the UK were fined £117 million last year and the total PPI compensation made by the banking industry in the UK reached as much as £24 billion, involving 17 million customers.  PPI is an insurance designed to cover a borrower's debt repayments in circumstances where the borrower is unable to work due to illness or is made redundant.  Banks sold complex PPI products to borrowers who were not eligible for the insurance cover.  Banks also failed to make clear to borrowers that they had the option not to buy these products.  
The above incidents highlight the fact that some banks only focus on the pursuit of profits without regard to their primary responsibilities.  In order to achieve their sales targets and increase profits, these banks had employed unscrupulous business practices.  Bankers who were viewed as elites in the past are now losing the public's respect.  Anti-establishment and anti-elitist sentiments have been brewing and sweeping the globe since the financial crisis in 2008.  It has become a real challenge to both regulators and the industry to enhance the ethical standards of the financial industry.
The Federal Reserve Bank of New York held its third Conference on Reforming Culture and Behaviour in the Financial Services Industry earlier on.  Participants included representatives from central banks and board members of banks, asset management firms and academic institutions from all over the world.  I was invited to attend the conference and participated in the discussions with Mr William Dudley, the President of the Federal Reserve Bank of New York (the host of the conference), and Dame Nemat (Minouche) Shafik, Deputy Governor of the Bank of England, on what supervisors in the three international financial centres – New York, London and Hong Kong – can do to enhance corporate culture and ethical standards in the banking industry.  What impressed me most is that even though the supervisory authorities in these three financial centres are facing different challenges every day, we all have a common vision when it comes to issues concerning the ethics and corporate culture of banks: there is a pressing need to enhance banks' ethical standards but it cannot be done by simply implementing more stringent rules and regulations.  We need to start from the fundamentals, i.e. bank culture.
What is bank culture?  It means a set of ethical values jointly pursued and observed by bank shareholders, board members and staff.  Essentially, good corporate culture and ethics should be self-driven and adopted by all from top to bottom, inside out, without any external regulatory pressure.  Nevertheless, many financial institutions have put the cart before the horse.  In the pursuit of profits, they care only whether their behaviour will breach any rules and regulations, or whether they will be caught.  Their focus is whether any misdeeds will be exposed and punished.  They think that as long as they have not violated any rule and regulation technically, they are free to do whatever they want, with no moral limits.  This not only violates the basic "customer-centric" principle, but also fails the expectation on the higher social responsibility of banks as compared with other industries, since their business model is to make profits based on the public's savings and trust.
To engineer any cultural change, the incentive system must be reformed as well.  Should profit maximisation continue to be the goal, rewarding only those who meet or exceed sales targets, a customer-centric culture will only be empty talk.  The examples above highlight the fact that inappropriate incentive for meeting sales targets is often the culprit behind employee misconduct.  Therefore, in my view, it is of paramount importance that banks should establish an incentive system which is well-aligned with corporate culture, so that remuneration and corporate values are closely linked.  While most banks have put in place a board-level remuneration committee already, it is often tasked with monitoring the remuneration packages of senior management or determining annual bonuses only.  In order to put through the culture and values to the middle management and frontline staff effectively, the incentive system must be structured in such a way that it can mobilise all staff to observe the corporate culture and values.
To ensure the credibility and independence of the incentive system, the remuneration committee should be chaired by an independent non-executive director (INED).  Indeed the HKMA has been highly supportive of the development and empowerment of the INEDs, including organising training programmes and exchange sessions, which help ensure the more effective discharge of their function in overseeing bank management.  Our aim is that banks will promote governance and risk management standards with self-discipline and self-initiation, and play an active role in promoting the reform of bank culture.
Putting things right also involves a reform of shareholders' mindset.  In recent years, some asset managers and hedge funds focusing on short-termism have been pressuring bank boards and management to take a very short term view to maximise profits, which will jeopardise banks' development and reputation in the long run.  As Ms Shafik, Deputy Governor of the Bank of England, said at the conference, when a bank gets heftily fined, dividend distributions and shareholder interest are at stake too.  Therefore, the reform of bank culture deserves the full support from institutional investors and minority shareholders alike.  Only then can banks ensure their sustainable and robust growth, regain customer trust and create greater shareholder value in the long run.   
Reforming culture cannot happen overnight.  The HKMA will continue to work hard in this respect and maintain close dialogue with the industry and other regulators in considering the next steps.  We believe that, apart from requiring the bank boards to take appropriate actions to enhance ethical standards, regulatory co-operation is also essential.  Attending this conference organised by the Federal Reserve Bank of New York marks the first step in this direction.  I look forward to reporting more progress by the HKMA on the work of improving bank culture in the future.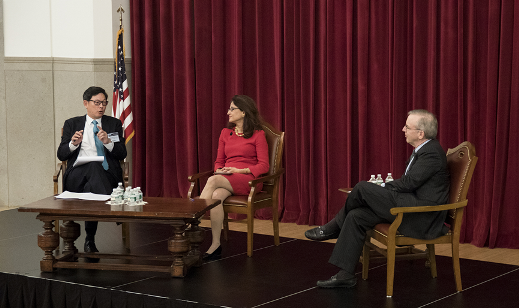 Mr Norman Chan, Chief Executive of the HKMA (first from left) discussed the reform of bank culture with Mr William Dudley, President and Chief Executive Officer, Federal Reserve Bank of New York (first from right), and Dame Nemat (Minouche) Shafik, Deputy Governor, Bank of England (middle) at a conference in New York in October.
Norman Chan
Chief Executive
Hong Kong Monetary Authority

2 November 2016