The Hong Kong Monetary Authority (HKMA) and the Central Bank of Brazil (BCB) signed a Co-operation Agreement yesterday (9 September 2018) to enhance collaboration between the two central banks involving fintech issues, with a view to encouraging and enabling innovation in financial services in both markets, and supporting innovative financial businesses in expanding to each other's jurisdictions.
The Co-operation Agreement was signed between Mr Norman Chan, Chief Executive of the HKMA, and Mr Ilan Goldfajn, Governor of BCB, in Basel. Under the Co-operation Agreement, the HKMA and BCB will collaborate on the referral of innovative businesses, information and experience sharing, and joint innovation projects.
Mr Chan said, "I am pleased to have signed a fintech co-operation agreement with Governor Ilan Goldfajn of the BCB in Basel today.  The signing of this agreement signifies the commitment by both sides to further strengthen the collaboration between Hong Kong and Brazil, the largest economy in Latin America, in the development of fintech."
Mr Goldfajn said, "BCB recently put forward a number of regulations fostering the development of the fintech sector as well as enhancing cyber resilience in Brazil. We look forward to a fruitful collaboration with Hong Kong, which is one of the main financial technology hubs in Asia.  This co-operation agreement entails sharing of experiences and best practices, and will enable us to both monitor technological changes in financial markets from a broader perspective and adapt the regulatory environment to innovative business models."
Hong Kong Monetary Authority
10 September 2018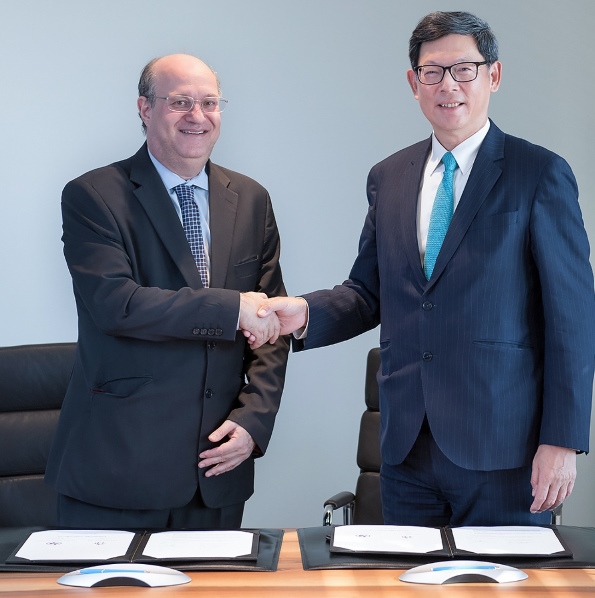 Mr Norman Chan, Chief Executive of the HKMA (right), and Mr Ilan Goldfajn, Governor of BCB, sign and exchange the Co-operation Agreement in Basel.