The Hong Kong Monetary Authority (HKMA) and the Polish Financial Supervision Authority (KNF) exchanged a Memorandum of Understanding (MoU) today (9 March 2018) to enhance fintech collaboration between the two authorities, with a view to strengthening co-operation between the two places in promoting innovative financial services.
The MoU was signed between Mr Howard Lee, Deputy Chief Executive of the HKMA and Mr Marek Chrzanowski, Chairman of the KNF today in Hong Kong. Under the MoU, the HKMA and the KNF will collaborate on joint research projects, information exchange, mutual consultations and expertise sharing.
Mr Lee said, "We are pleased to foster a closer relationship with the KNF to better support fintech and innovative financial services across the two jurisdictions. Poland is prioritising on fintech and seeks to become a regional fintech hub in Europe. The co-operation between the HKMA and the KNF would enable the two authorities to benefit from each other's experience and expertise."
Mr Chrzanowski said, "Recently KNF has taken part in a number of activities to support the development of the FinTech sector in Poland and we look forward to fruitful collaboration with Hong Kong which is one of the main financial technology centres in Asia.  Mutual consultation and sharing best practice in financial innovations between HKMA and KNF will enable us both to better follow technological change in the financial markets and adapt the supervisory environment to new business models based on modern technological solutions."
Hong Kong Monetary Authority
9 March 2018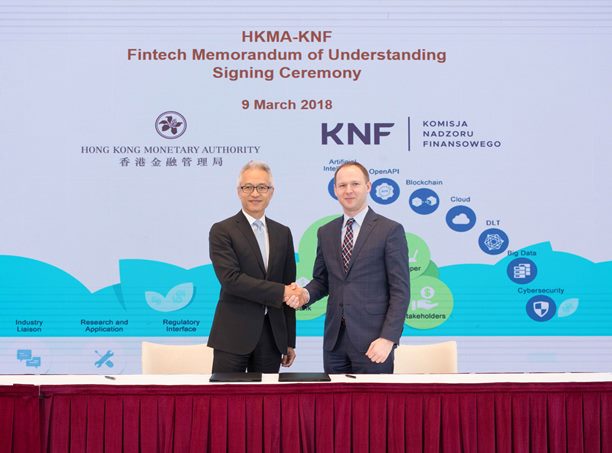 Mr Howard Lee(Left), Deputy Chief Executive of the HKMA and Mr Marek Chrzanowski, Chairman of the KNF sign and exchange the MoU in Hong Kong today (9 March 2018).