The Hong Kong Monetary Authority (HKMA) announces today (31 January 2018) the launch of the upgraded version of the Fintech Career Accelerator Scheme (FCAS 2.0), with a view to enhancing the fintech talent pool in Hong Kong to meet the growing demands from the industry. Under FCAS 2.0, the HKMA will collaborate with its strategic partners, Hong Kong Applied Science and Technology Research Institute (ASTRI), Hong Kong Cyberport Management Company Limited (Cyberport) and Hong Kong Science and Technology Parks Corporation (HKSTP), in offering four fintech talent building programmes.
One of the seven initiatives announced in September 2017 by the HKMA to help the banking sector to elevate to a higher level of Smart Banking is enhancing fintech research and talent development. FCAS 2.0 is part of that initiative and comprises the programmes below, each targeted at young talents of various stages of their career development:
        1.

Entrepreneurship summer boot camp – the HKMA has agreed with Cyberport to refer suitable 2017/18 FCAS interns for nomination to the Cyberport University Partnership Programme, which is a fintech-focused entrepreneurship boot camp at a prestigious overseas university, with mentorship and sharing offered by industry elites and startups.

        2.

Shenzhen Summer Internship Programme – the HKMA is also formulating a summer internship programme, which allows students to experience the fintech ecosystem in Shenzhen by working in renowned fintech or techfin firms for six weeks.

        3.

Gap year full-time placement programme – the HKMA and ASTRI, with the support from 20 banks and 10 tertiary education institutions, will continue to provide full-time practical internship in 2018/19 for undergraduate and postgraduate students to work on fintech projects at the HKMA and the participating banks for six months or one year. The HKMA and ASTRI will provide relevant regulatory updates and technical training respectively to the placement students.

        4.

Full-time graduate programme

– Cyberport and HKSTP will encourage their tenants with fintech associated businesses to employ fresh or recent graduates full-time. The HKMA and ASTRI have agreed to provide regulatory updates and technical training respectively to these graduates.

Mr Norman TL Chan, Chief Executive of the HKMA, said, "FCAS 2.0 presents rewarding career exposure for our young talents to learn the leading edge fintech developments locally and internationally. The HKMA will continue to work with the fintech community and other relevant parties to expand the talent pool and facilitate Hong Kong to move into the new era of Smart Banking."
Hong Kong Monetary Authority
31 January 2018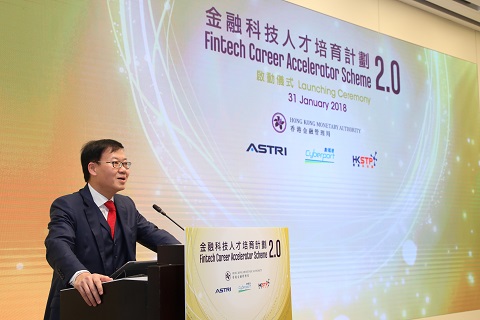 Mr. Shu-Pui Li, Executive Director of the HKMA, gives welcoming remarks at FCAS 2.0 launching ceremony.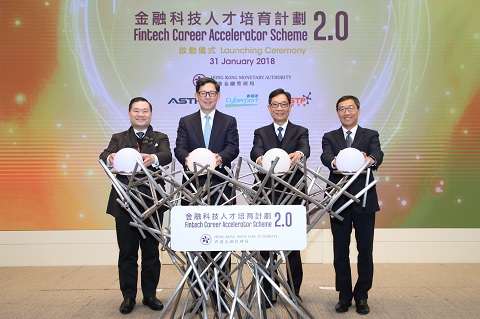 The officiating guests for the launching ceremony include (from left to right) Dr Lee George Lam, Chairman of Cyberport, Mr. Norman TL Chan, the Chief Executive of the HKMA, Mr. Ming-Yam Wong, Chairman of ASTRI and Mr. Albert Wong, Chief Executive Officer of HKSTP.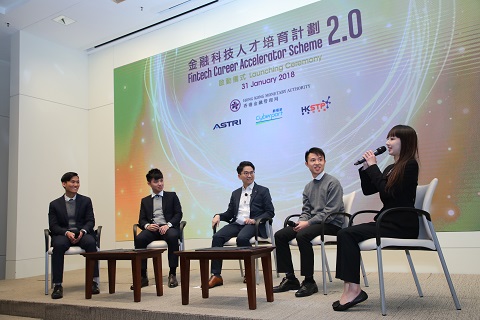 Mr. Nelson Chow(middle), Chief Fintech Officer of the HKMA, moderates a panel with 2017/18 interns.