Press Releases
HKMA "Ying-san Note" Cartoon Competition
The Hong Kong Monetary Authority (HKMA) recently organised a cartoon competition for secondary school students in Hong Kong to tap their creativity to promote the use of "ying-san notes", or good-as-new notes, as lai-see. A prize presentation ceremony was held on 30 December 2008.
"The response has been very encouraging. We received over 750 entries from 71 secondary schools, many of which were very creative and artistically drawn. The entries demonstrate teenagers' awareness of conservation and the need to protect the environment," said Mr Joseph Yam, Chief Executive of the HKMA, who presented the prizes to the winners. "I am glad to see the wide acceptance of "ying-san notes" by younger people. With the approach of the Chinese New Year, I would like to take this opportunity to appeal to everyone to support the use of "ying-san notes" for lai-see," Mr Yam added.
The entries were judged for their originality and content, drawing skills and message. The winner among the junior secondary participants is Tsui Wing-yan of St. Francis of Assisi's College and the winner among the senior secondary participants is Leung Cheuk-yiu of T.W.G.Hs. Sun Hoi Directors' College. All winning entries are displayed on the HKMA website http://www.info.gov.hk/hkma/eng/new/yingsan/yingsan.htm.
For further enquiries, please contact:
Peggy Lo, Manager (Communications), at 2878 1687 or
Hing-fung Wong, Manager (Communications), at 2878 1802
Hong Kong Monetary Authority
31 December 2008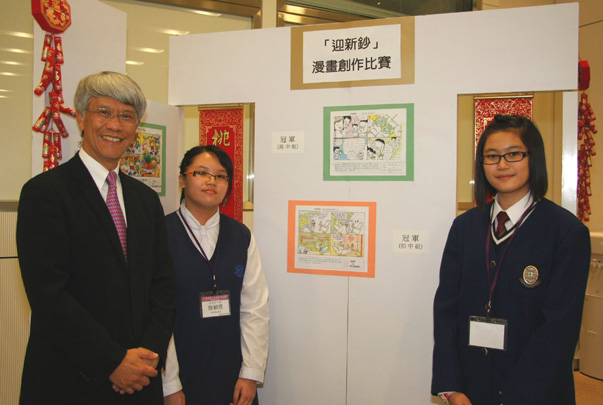 HKMA Chief Executive Joseph Yam (left) with the winner of the junior secondary participants Tsui Wing-yan from St. Francis of Assisi's College (middle) and the winner of the senior secondary participants Leung Cheuk-yiu from T.W.G.Hs. Sun Hoi Directors' College (right)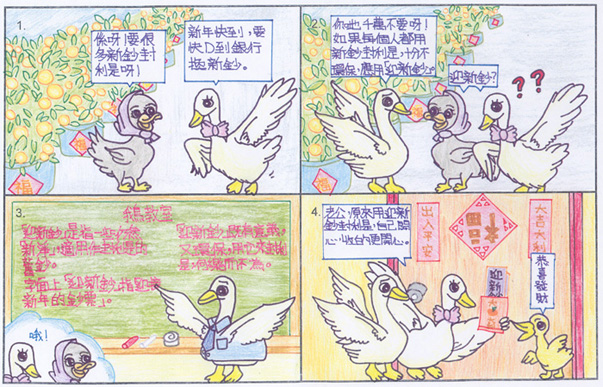 Cartoon by the winner of the junior secondary participants Tsui Wing-yan from St. Francis of Assisi's College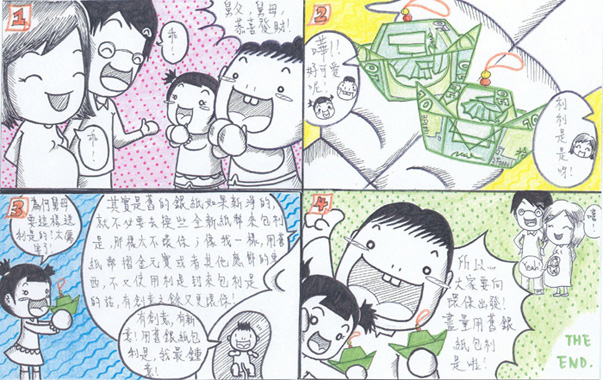 Cartoon by the winner of the senior secondary participants Leung Cheuk-yiu from T.W.G.Hs. Sun Hoi Directors' College