The Hong Kong Monetary Authority (HKMA) was presented with The Asian Banker Award for Achievement in Regulation in the Financial Services Industry 2007 today (16 March).
The annual Asian Banker Achievement Awards programme has been organised by The Asian Banker magazine since 2005 to recognise individual excellence in the financial services industry.  The award was based on a rigorous selection process chaired by Mr David Eldon, Chairman of Dubai International Financial Centre Authority.
"Under the leadership of its founding Chief Executive, Mr Joseph Yam, the HKMA has become a world class regulator that has helped Hong Kong establish its position as a highly respected and sophisticated regional financial hub," the Asian Banker said.
The HKMA has been recognised by the judging panel as the foremost authority in overseeing the development of advanced issues in banking such as the Hong Kong deposit protection scheme and the implementation of the Basel II supervisory.
The assessment included the institution's major achievements in the year under review, the quality of its regulatory reports, its vision and strategy, and the operational guidance given by the institution to the financial industry.
"The HKMA was viewed as the clear leader as the region's most active regulator in supervising its banks in terms of active, on-the-ground issues.  It is also the regional regulator that has the best understanding of using modern supervisory techniques to bridge the gap between big-picture macro issues and finer operational issues," the Asian Banker added.
At the presentation ceremony, Mr Yam said: "The HKMA is very honoured to be presented with this award by The Asian Banker. It gives recognition to the professionalism and diligence of all the HKMA's staff."
"Since its establishment in 1993, the HKMA has been committed to promoting the safety and stability of Hong Kong's banking system through the regulation of banking business and the business of taking deposits, as well as the supervision of banks.  We will continue to make every effort to ensure that we are prepared for new challenges in the fast-changing financial environment," he added.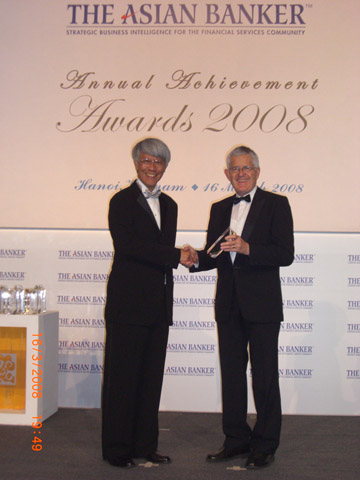 Chief Executive of the Hong Kong Monetary Authority (HKMA), Mr Joseph Yam, received The Asian Banker Award for Achievement in Regulation in the Financial Services Industry 2007 on behalf of the HKMA in Hanoi, Vietnam.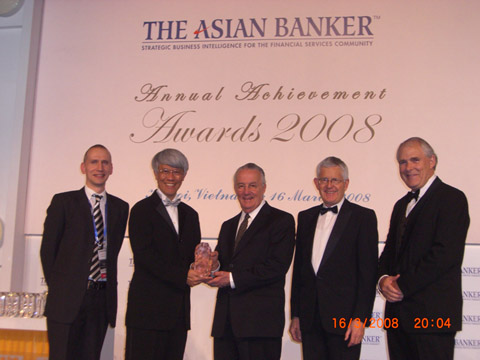 From left to right: Asian Banker senior research manager Christian Kapfer, Mr Joseph Yam (Chief Executive of the Hong Kong Monetary Authority), Mr Paul Sarbanes (co-author of the Sarbanes-Oxley Act and former chairman, US Senate Committee on Banking, Housing and Urban Affairs), Mr Kaspar Villiger (former President and Finance Minister of Switzerland and current Director of Swiss Re), Mr David Eldon (Chairman of Dubai International Financial Centre Authority)
For further enquiries, please contact:
Peggy Lo, Manager (Press), at 2878 1687 or
Hing-fung Wong, Officer (Press), at 2878 1802
Hong Kong Monetary Authority
16 March 2008