Press Releases
HKMA visits Fintech Firms in Shenzhen
Mr Norman Chan, Chief Executive of the Hong Kong Monetary Authority (HKMA), visited the Office of Financial Development Service, the People's Government of Shenzhen Municipality (OFDS) today (2 June 2017) to keep abreast of the applications and latest developments of fintech in Shenzhen, and exchanged views on the co-operation among banks and financial institutions in the two cities. Mr Chan also visited two pioneering fintech firms in Shenzhen, namely Webank and Ping An Technology.
Mr Chan said, "Hong Kong and Shenzhen have their respective edges in the development and applications of fintech. As an international financial centre, Hong Kong has a significant presence of financial institutions from all over the world, as well as a robust and efficient financial infrastructure, which provide a sound base for fintech developments. As for Shenzhen, outstanding technology companies and talents both at home and abroad have been drawn to the city. Through strengthening bilateral co-operation, Hong Kong and Shenzhen can complement each other and bring about mutual benefits."
Mr He Xiaojun, Director-General of the OFDS said, "The arrangement to deepen bilateral exchanges and co-operation has great significance for the implementation of the Guangdong-Hong Kong-Macao Bay Area development strategy, and the development of Shenzhen into a modern international city of innovation as well as a global technology and industry innovation centre. As one of the three major financial centres on the Mainland, Shenzhen has an innovative and vibrant financial sector and a well-developed high-tech industry. It is a hub not only for many start-ups and research talents, but also many leading global technology companies. At the same time, Hong Kong is an international financial centre with many global financial institutions and talents. Co-operation between the two cities will create mutual benefits and strong synergies, adding new impetus to the Bay Area. It will also signify an important step for the Bay Area to develop into an international fintech centre."
During this exchange, the HKMA and the OFDS agreed to strengthen co-operation between Hong Kong and Shenzhen, with a view to creating a more favourable environment for the development and use of fintech by banks and other financial institutions. Co-operative initiatives include the following:
The OFDS accepts the HKMA's invitation to take part in the Fintech Summit scheduled in Hong Kong in the second half of 2017, to promote the exchange and co-operation between fintech stakeholders in Hong Kong and the Mainland;
The OFDS accepts the HKMA invitation to take part in organising a major fintech competition to provide a platform for fintech firms around the world to compete on innovative concepts and products, so as to encourage innovation and raise industry standards. Details of the competition will be announced later this year;
The HKMA will join hands with its strategic partners in Hong Kong, including the Hong Kong Science Park and Invest Hong Kong, with a view to providing assistance to fintech firms in Shenzhen in expanding their business in Hong Kong. Similarly, the OFDS will also provide appropriate support to Hong Kong's fintech firms in their establishment of a presence and developments in Shenzhen;
The HKMA and the OFDS will line up major fintech firms in Shenzhen in offering internship positions for students in tertiary education institutions in Hong Kong. At present, Shenzhen's Webank and Ping An Technology have already indicated their interests in supporting this initiative.
Hong Kong Monetary Authority
2 June 2017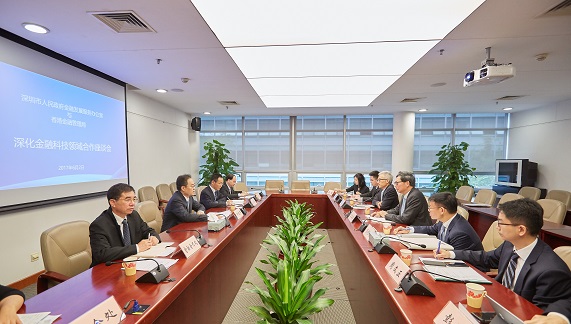 Chief Executive of the HKMA, Mr Norman Chan, and Director-General of the Office of Financial Development Service, the People's Government of Shenzhen Municipality, Mr He Xiaojun (second from left) agree to deepen bilateral cooperation in the area of Fintech.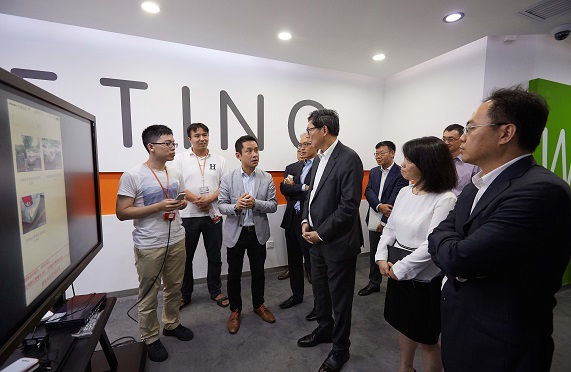 Mr Norman Chan and Mr He Xiaojun (first from right) visit Ping An Technology and meet with its Chief Executive Officer Mr Ericson Chan (third from left) to understand the research and development of innovative Fintech products.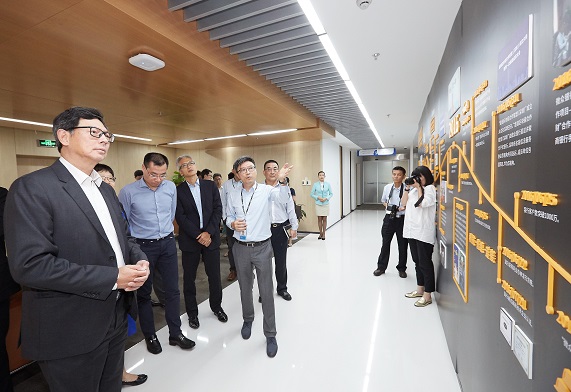 Mr Norman Chan visits Webank, and is briefed by its Vice President and Chief Information Officer Mr Henry Ma (fourth from left) on the application of Fintech in banking services to promote financial inclusion. The Chairman of Webank, Mr Gu Min (second from left), is also present.