Press Releases
Publicity Campaign on 2010 New Series Hong Kong Banknotes
The Hong Kong Monetary Authority (HKMA) launched today (Saturday) a publicity campaign to promote public awareness of the 2010 New Series Hong Kong Banknotes.
As part of this publicity campaign, exhibitions will be held in different districts in Hong Kong to let people view and feel the new banknotes before the first denomination (HK$1,000) goes into circulation in the last quarter of this year (see schedule of exhibitions at Annex).
In the coming months, the HKMA will continue with the publicity campaign to promote the new banknotes to the community. Besides exhibitions and student ambassadors visiting major shopping centres in the territory to distribute education leaflets, the HKMA will organise education seminars targeting banks, retailers, money changers, visually impaired persons and the elderly.
"Public awareness is the best defence to counterfeit. We encourage members of the public to visit the exhibitions to have a close look at the state-of-art security features of the new banknotes. The HKMA has also made available at the HKMA website www.hkma.gov.hk other details about the new banknotes," an HKMA spokesperson said.
For media enquiries, please contact:
Anissa Wong, Manager (Communications), at 2878 1802 or
Natalie Wu, Officer (Communications), at 2878 8246
Hong Kong Monetary Authority
24 July 2010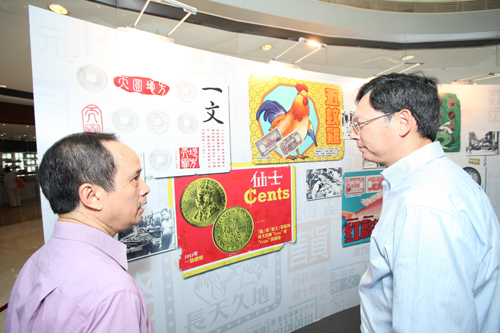 Mr Cheng Po-hung, a well-known local historian, shares interesting stories of the Hong Kong currency with Mr Norman Chan.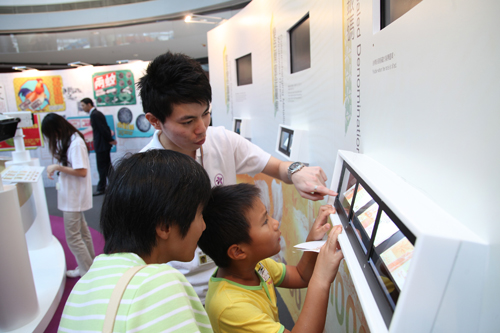 A student ambassador encourages the public to take a closer look at the new designs.