Press Releases
HKMA "Ying-san Note" Chinese Couplet Competition
The Hong Kong Monetary Authority (HKMA) today (Wednesday) announced the results of "Ying-san Note" Chinese Couplet Competition aimed at promoting the use of good-as-new notes during Chinese New Year. Five winners from each category of competitors, namely the Secondary School Category, Senior Citizens Category and Open Category, attended a prize presentation ceremony held at the HKMA today. A list of winners and their works is in the Annex.
The response to this year's competition was very encouraging with over 600 entries received. The winning couplets were selected for their ability to communicate, in a literary and elegant way the message that using good-as-new notes in lai-see packets is just as auspicious as using new notes, and, more importantly, environmentally-friendly.
"We are happy to see that the HKMA's promotional efforts on the use of 'Ying-san Notes' over the past few years have had the desired effect, with the share of brand-new notes to total banknotes issued in the run-up to Lunar New Year 2009 decreasing to 56% from 79% in 2006,"an HKMA spokesperson said.
The tradition of using brand new notes to symbolise a new beginning has a long history and is not likely to change overnight. The HKMA's approach to promoting good-as-new notes has been to start with the young, and gradually spread the idea to their parents and grandparents. Since 2006, slogan, cartoon and couplet competitions have been organised to encourage members of the public to help protect the environment.
The three note-issuing banks will start exchanging new notes on 2 February, and will also make sure there are sufficient good-as-new notes to meet public demand.
For further enquiries, please contact:
Hing-fung Wong, Manager (Communications), at 2878 1802 or
Yokee Wong, Manager (Communications), at 2878 1213
Hong Kong Monetary Authority
27 January 2010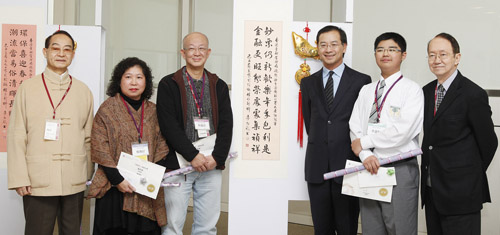 HKMA Deputy Chief Executive Eddie Yue (third from right) and two adjudicators, Yeung Sui Sang (first from right) and Li Kai Yan (first from left), take a picture with the three champions, Lam Hing Hung of the Senior Citizens Category (third from left), Li Ka Chung of the Secondary School Category (second from right) and Yeung Woon Ho of the Open Category (second from left), after the prize presentation ceremony.