Press Releases
The Hong Kong Mortgage Corporation Limited
Fixed Adjustment Rate Mortgage Programme
The Hong Kong Mortgage Corporation Limited (HKMC) announced today (21 October) the launch of a special scheme under the Corporation's Fixed Adjustable Rate Mortgage (FARM) Programme, promoting mortgage loans with fixed-rate periods from one to ten years. There are 10 banks which will be participating in this special scheme, namely Bank of China (Hong Kong), Bank of East Asia, CCB(Asia), DBS (Hong Kong), Dah Sing Bank, Hang Seng Bank, HSBC, ICBC(Asia), Standard Chartered Bank (Hong Kong) and Wing Hang Bank.
The HKMC pioneered the FARM Programme in March 1998 to promote fixed-rate mortgage loans as an alternative choice of mortgage financing, offering homebuyers protection against adverse movement in interest rates. Under the special scheme, borrowers in respect of owner-occupied properties can apply for mortgage loans for fixed-rate periods of 1, 2, 3, 5, 7 and 10 years with the following mortgage rates:
FARM Period
Mortgage Rate
(% per annum)
Mortgage Rate after
FARM Period
1-year
1.25%
The then prevailing HKMC FARM Rate
or
HKMC Prime Rate minus 3% per annum
2-year
1.75%
3-year
2.35%
5-year
3.18%
7-year
3.58%
10-year
3.78%
With fixed rate mortgages, the mortgage borrowers can lock in a predetermined mortgage interest rate and be insulated from any volatility in interest rates during the chosen fixed-rate period. At the end of the fixed-rate period, borrowers will have a choice of either re-fixing the mortgage rate for another term at the then prevailing fixed rates offered by the HKMC, or converting the mortgage loan to a pre-committed floating rate of HKMC Prime Rate minus 3% per annum. The key product features are summarised in Annex A.
Mr Peter Pang, Executive Director of the HKMC and Deputy Chief Executive of the Hong Kong Monetary Authority, said, "Fixed rate mortgage products will bring about significant benefits to the homebuyers in Hong Kong as it provides certainty in terms of monthly mortgage repayment amount and protects them from possible hikes in interest rate during the fixed-rate period. The fixed rate mortgages offer a good alternative for homebuyers to consider when taking out a mortgage loan."
The application period is from 27 October to 31 December 2009. Loan drawdown has to be completed by 28 February 2010. Interested homebuyers can contact the participating banks listed above.
The Hong Kong Mortgage Corporation Limited
21 October 2009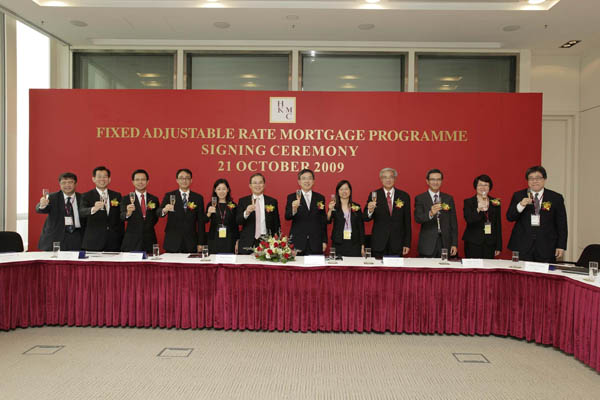 (From left to right)
Mr Jammy Chen , General Manager, Consumer Lending, Consumer Banking, Standard Chartered Bank (Hong Kong)
Mr John Lam, Executive Director, Dah Sing Bank
Mr Derek S. K. Chung, Senior Vice President, Deposit & Secured Loans, Consumer Banking, DBS(Hong Kong)
Mr Joseph Cho, Deputy General Manager and Head of Branch Network and Direct Banking, Hang Seng Bank
Ms Lilian Kao, Senior Manager Cards & Consumer Assets Business, Personal Financial Services Hong Kong, HSBC
Mr Peter S. T. Pang, Executive Director, Hong Kong Mortgage Corporation
Mr James H. Lau Jr., Chief Executive Officer, Hong Kong Mortgage Corporation
Ms Wendy Y. S. Mui, Head of Personal Banking (Deputy General Manager), Personal Banking & Product Management, Bank of China (Hong Kong) Mr Simon C.K. Lau, General Manager & Head of Personal Banking Division, Bank of East Asia
Mr Stanley Y. F. Wong, Director & Deputy General Manager, ICBC(Asia)
Ms Miranda Kwok, Director and Executive Vice President, Head of Consumer Banking Group, China Construction Bank (Asia)
Mr Frank Wang, Executive Director & Deputy Chief Executive, Wing Hang Bank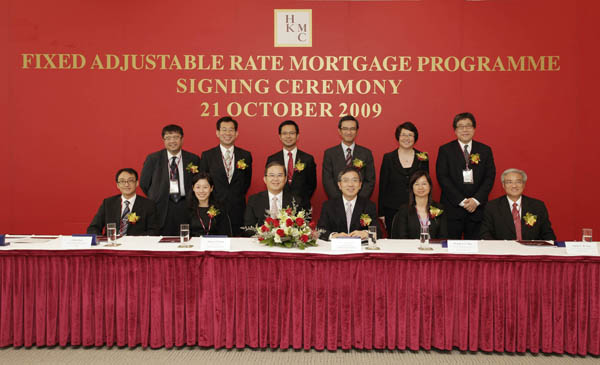 (From left to right)
Second Row:
Mr Jammy Chen, General Manager, Consumer Lending, Consumer Banking, Standard Chartered Bank (Hong Kong)
Mr John Lam, Executive Director, Dah Sing Bank
Mr Derek S. K. Chung, Senior Vice President, Deposit & Secured Loans, Consumer Banking, DBS(Hong Kong)
Mr Stanley Y. F. Wong, Director & Deputy General Manager, ICBC(Asia)
Ms Miranda Kwok, Director and Executive Vice President, Head of Consumer Banking Group, China Construction Bank (Asia)
Mr Frank Wang, Executive Director & Deputy Chief Executive, Wing Hang Bank
Front Row:
Mr Joseph Cho, Deputy General Manager and Head of Branch Network and Direct Banking, Hang Seng Bank
Ms Lilian Kao, Senior Manager Cards & Consumer Assets Business, Personal Financial Services Hong Kong, HSBC
Mr Peter S. T. Pang, Executive Director, Hong Kong Mortgage Corporation
Mr James H. Lau Jr., Chief Executive Officer, Hong Kong Mortgage Corporation
Ms Wendy Y. S. Mui, Head of Personal Banking (Deputy General Manager), Personal Banking & Product Management, Bank of China (Hong Kong)
Mr Simon C.K. Lau, General Manager & Head of Personal Banking Division, Bank of East Asia