Press Releases
Hong Kong Mortgage Corporation - Mortgage Guarantee Scheme
The Board of Directors of the Hong Kong Mortgage Corporation (HKMC) has given its approval in principle for the Corporation to partner with mortgage insurers to launch a mortgage guarantee scheme which will enable home buyers to secure mortgage loans up to 85% loan-to-valuation (LTV) ratio.
Under the proposed scheme, the HKMC will provide a guarantee at a fee to the lending bank (which has to be an Approved Seller of the HKMC) for an amount up to 15% of the value of the property. The HKMC will fully hedge the exposure of the guarantee by taking out an insurance of equal amount with a mortgage insurer. (See the attached technical note for further details of the proposed framework).
"This is a win-win solution for all parties : home buyers, banks, HKMC and the insurance industry. The arrangement will also help to improve the liquidity in the property market, particularly in respect of secondary property transactions. With the approval of the Board, we will conduct detailed negotiations with the mortgage insurers on the terms of the back-to-back mortgage insurance and seek formal authorization as an authorized insurer under the Insurance Companies Ordinance. If everything goes well, we expect to launch the product in the first quarter of 1999," said Mr. Donald Tsang, Chairman of the HKMC.
Mr. Joseph Yam, Deputy Chairman of the HKMC added, "Asset quality of the mortgage loans remains my top concern. For prudent risk management, the HKMC will provide a guarantee only in respect of mortgages conforming to its purchase criteria, including notably a maximum debt to income ratio of 50% which will cover the additional portion guaranteed by the HKMC and the requirement on owner occupancy. The scheme is consistent with the 70% LTV ratio policy as the banks' exposure will still be capped at 70%."
Mortgage Guarantee Scheme
Structure
The structure of the mortgage guarantee scheme is as follows :-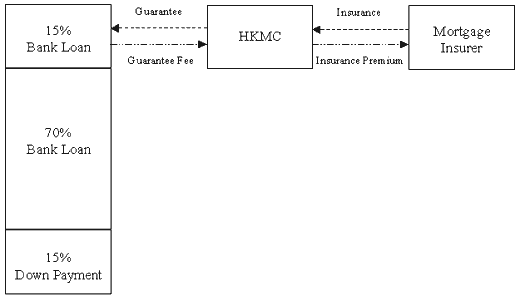 Coverage
Up to 15% of the value of the residential property which will allow authorized institutions to lend at up to 85% LTV ratio. The coverage of the guarantee will be reviewed in the light of experience of operating the scheme.
Coverage Period
The guarantee provided by HKMC will be in force until the outstanding principal of the mortgage loan falls below 70% of the value of the property at the time of origination.
Eligible Mortgages
All mortgages conforming to HKMC*s purchasing criteria (see below), irrespective of whether the loans will be sold to the HKMC, will be eligible for the mortgage guarantee. This will apply to both floating rate and fixed rate mortgage loans. The relevant criteria are as follows :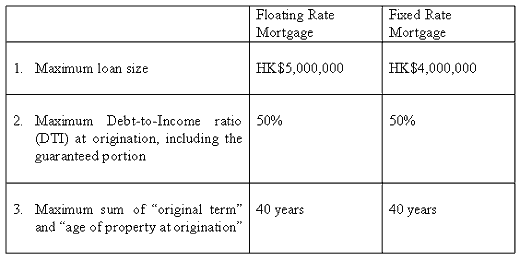 Eligible Mortgage Originators
All authorized institutions which are Approved Seller of the HKMC.
Payment Method for the Guarantee Fee
One-off, annual or monthly
Hong Kong Mortgage Corporation
3 December 1998