Press Releases
Issuance of the Hong Kong International Airport Commemorative Gold Coin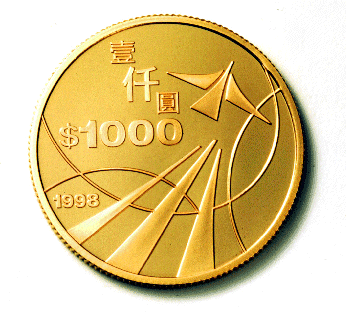 The Hong Kong Monetary Authority (HKMA) announces today the launch of the Hong Kong International Airport Commemorative Gold Coin which is issued by the HKMA on behalf of the Government of the Hong Kong Special Administrative Region to mark the opening of the new Hong Kong International Airport in July 1998.
The Gold Coin features a design symbolising Hong Kong's ascent into the new century, and bears the standard Bauhinia design on the other side. The Gold Coin is legal tender with a HK$1,000 face value. It is produced by the Royal Mint of the United Kingdom in 22-carat gold. Each Gold Coin is issued with an individually numbered Certificate of Authenticity.
"The Gold Coin will be of great commemorative value. The mintage will be limited to 15,000 pieces worldwide, of which only 8,000 pieces are available for local distribution " said an HKMA spokesman.
The Gold Coin will be sold in Hong Kong for HK$3,288 each. Application forms will be available through designated branches of HongkongBank. Each Hong Kong Identity Card holder can apply for one Gold Coin only and the closing date for application is Monday, 15 June 1998. In the event of over-subscription, a ballot will be held. Successful applicants will be able to collect their Gold Coins starting from 6 July 1998.
Application forms will be available from tomorrow (Friday, 5 June 1998) at 10 branches of HongkongBank (China Building, Des Voeux Road West, Hong Kong Main Office, Kwun Tong, Mongkok, North Point, Paterson Street, City Landmark, Wayfoong House and Yuen Long).
Proceeds from the sale of the Gold Coins after deducting the cost of issue will be used to fund selected charities and community projects for the benefit of the community.
Note to editor :
Application forms of the New Airport Gold Coin will be distributed via the GIS mail box and the photo of the Gold Coin will be sent via the GIS wires.
Hong Kong Monetary Authority
4 June 1998