Consumer Education Programme - Major Safety Tips on Using Internet Banking Services - Demystify Phishing Emails
Demystifying a Dummy Phishing Email - Animation Video
Transcript
(PDF File, 99KB)
Sample Phishing Emails Purportedly from Banks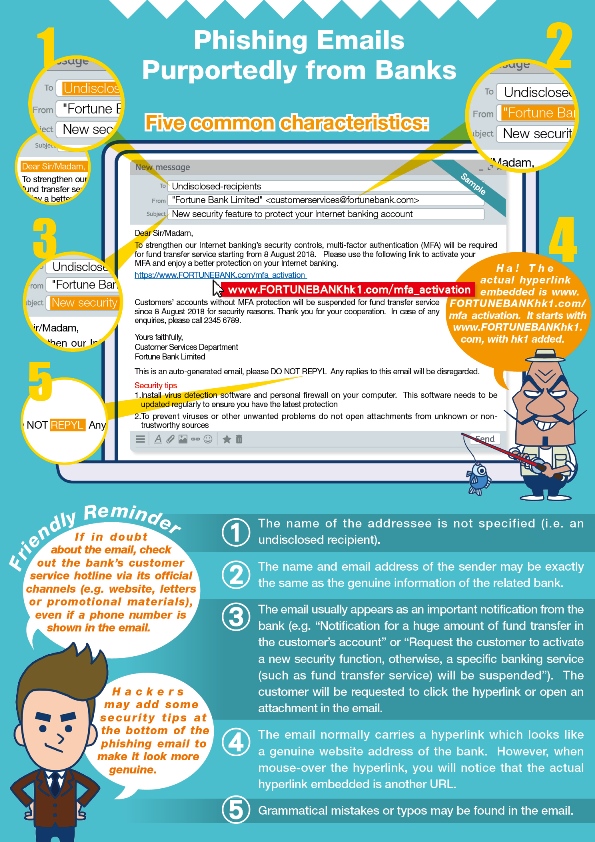 Smart Tips Against Phishing Emails
How to handle suspicious emails?
If you receive any suspicious emails purportedly from banks or find the attachments or hyperlinks in the emails doubtful, remember not to open the attachments or click the hyperlinks. Internet banking should be accessed by entering the bank's website address directly, or using a bookmark or an Internet banking mobile application (App).
Generally speaking, banks rarely take the initiative to approach customers to check their personal information, or request customers to click hyperlinks in emails to access their Internet banking accounts or update their information. Whenever receiving calls or emails purportedly from banks, stay vigilant and verify their authenticity. This can prevent fraudsters from stealing your personal information or login credentials for unlawful use.
In case of any queries, bank customers can contact the relevant bank to verify the email authenticity via other channels (e.g. bank's customer service hotline).
Back to "Consumer Education Programme" main page