HKMA's Manager Trainee Programme / Graduate Economist Programme
Introduction
The HKMA operates a two-year Manager Trainee (MT) Programme and a two-year Graduate Economist (GE) Programme.  Our aim is to prepare young adults who are interested in central banking work to become our future key management staff and to contribute to the financial stability and prosperity of Hong Kong.
Manager Trainee (MT)
An MT will undergo on-the-job training in two to three different departments in order to gain an understanding of the important role the HKMA plays in maintaining Hong Kong's monetary and financial stability.
On completion of the programme with satisfactory performance, an MT will be appointed as a Manager.
Requirements
Experience: No formal work experience required.  Final-year students or recent graduates of local and overseas universities are welcome to apply
Education: Holder of a Bachelor's degree from any discipline with very strong academic results.  Business / Finance / Economics major a plus
Capabilities: Broad general knowledge, high versatility and flexibility, great attention to details, good logical thinking, a sharp and analytical mind, critical thinking
Communication skills: Excellent command of English and Chinese, strong presentation and communication skills, good Putonghua an advantage
Team spirit: A good team player, able to work with others to achieve the objectives
Other requirements: Willing to accept challenges, proactive, interested in and aspired to work in the central banking field
Graduate Economist (GE)
The GE Programme is a new programme.  It aims to nuture young adults who are interested in economic research and help them develop their talents.  They will provide the HKMA with economic and market analyses that are essential to its work in maintaining monetary and financial stability.
During the two-year period, a GE will rotate through two to three different departments conducting economic research or monitoring macro financial conditions.
On completion of the programme with satisfactory performance, a GE will be appointed as an Economist.
Requirements
Experience: No formal work experience required. Final-year students or recent graduates of local and overseas universities are welcome to apply
Education: Holder of a Postgraduate's degree or preferably a PhD in economics, econometrics, statistics, quantitative finance or a related field
Capabilities: Good social and economic sense, good analytical ability, strong skills in econometrics and data management
Communication skills: Excellent command of English and Chinese, strong presentation and communication skills, knowledge in Putonghua an advantage
Team spirit: A good team player, able to work with others to achieve the objectives
Salary

The monthly fixed pay of MTs and GEs is around $40,000.
Training

The HKMA offers different professional training and talent development programmes to its staff so as to prepare them to take up various challenges of their work.  Our training programmes mainly comprise vertical training in job-specific areas aiming at deepening professional knowledge and horizontal training aiming at enhancing individual capabilities.
Mentoring

The HKMA's experienced staff will act as mentors of our trainees and share their experience with them.
Career Prospect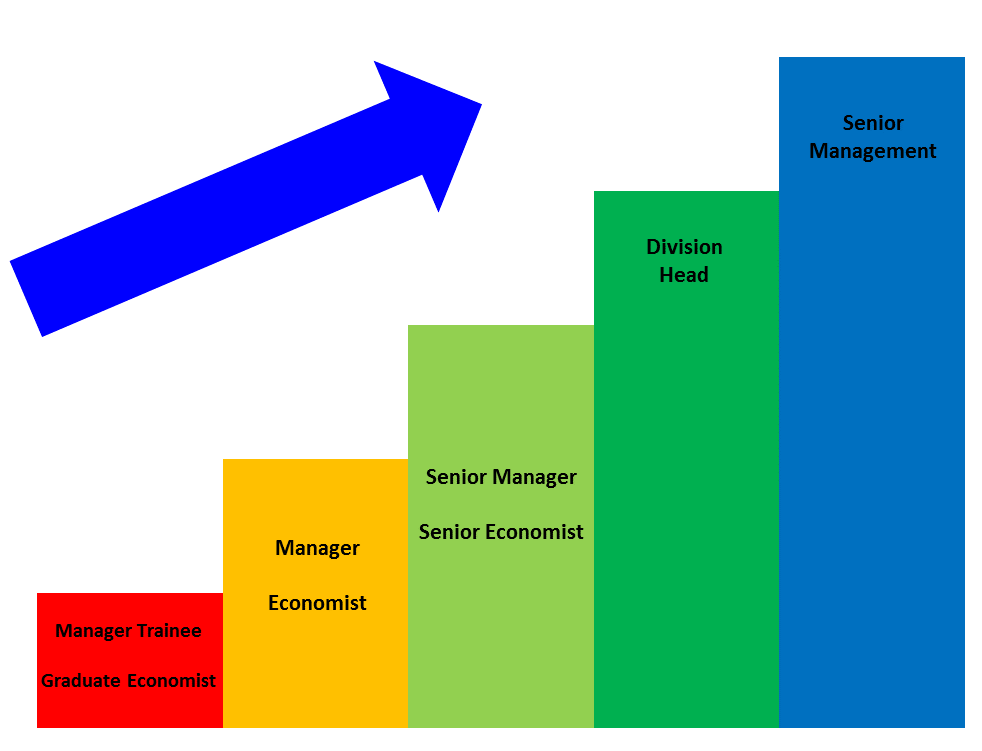 Application Method

Please submit your application online
http://www.hkma.gov.hk/eng/about-the-hkma/careers-hkma/recruitment
Selection Process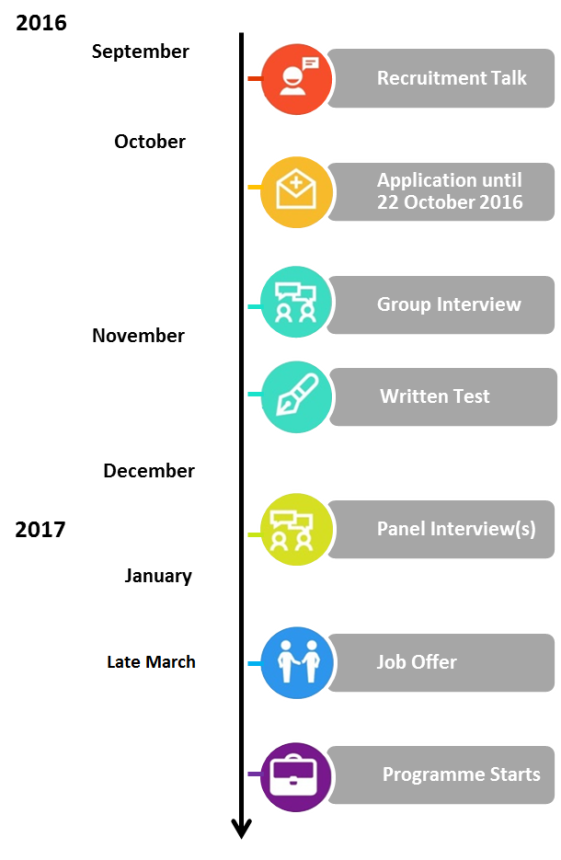 Sharing from our former MTs/"Oldies"
Carmen Chu
Executive Director (Banking Conduct)
Responsible for the supervision and development of business conduct of authorized institutions, licensing matters, and oversight of financial market infrastructure
Carmen is among the first batch of the HKMA's MTs.  She was working in the banking industry when she came across the recruitment advertisement.  She decided to apply for the post because she was interested in public policy.  Moreover, she thought she could put what she had learnt into practice as the courses she took in the university were relevant to the work of the HKMA.
One might have the impression that the work of a public entity is very boring and tedious.  Yet Carmen has a different view.  Though she has already been working at the HKMA for many years, she still finds the work very challenging.  Her most unforgettable experience is participation in the internationalisation of Renminbi.  This policy of financial liberalization was so important that there was no room for mistakes.  The regulators in both places have stepped up their communication and cooperation in the process.  It took years from policy design and formulation and deliberation to implementation.   Despite the seemingly endless process, the outcomes were a great encouragement to Carmen.  Since the introduction of renminbi business in 2004, Hong Kong has become the leading offshore renminbi business centre in the world.
There are many opportunities to go on overseas business trips or station overseas.  Carmen was seconded to the World Bank Office in Beijing from 1998 to 1999, responsible for conducting research.  She got the opportunity to meet with various Mainland institutions and officials during her time in Beijing, establishing some very valuable personal connections that were conducive to the development of offshore Renminbi business in Hong Kong by the HKMA later.
In addition, as the HKMA is a member of the Bank for International Settlements, staff will have the opportunity to attend meetings in Basel, taking part in the discussions with senior officials from other central banks and exchanging views on latest global financial market conditions and regulatory developments.  Carmen thinks that these are valuable experiences and opportunities that are not available in the private sector.  Another unexpected reward from working at the HKMA is the friends from different parts of the world she has made when attending various overseas meetings and events.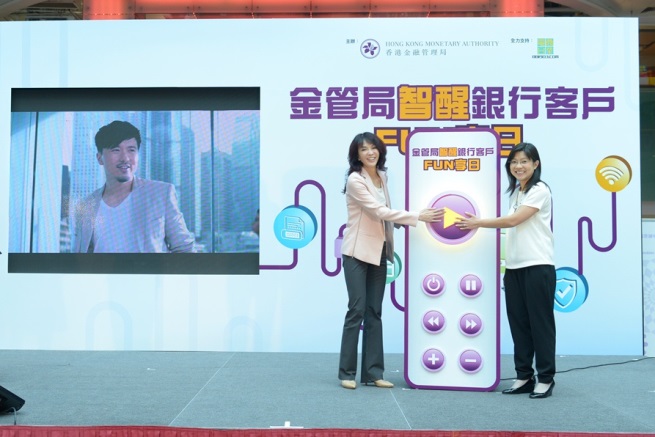 Caption: Carmen (right) attends the opening ceremony of an event under the HKMA's Consumer Education Programme.
Vincent Lee
Executive Director (External)
Responsible for promoting the development of Hong Kong as an international financial centre, RMB business, and keeping pace with the latest global regulatory developments by participating in various international forums to advance financial stability
Vincent is also among the first batch of the HKMA's MTs.  He admitted that he joined the MT Program because of the competitive remuneration package and had not given much thought to what exactly central banking work was about.  Yet he has been with the HKMA for more than 20 years.
Vincent has worked in various departments at the HKMA, including economic research, banking supervision and enforcement.  He has also served as the Administrative Assistant to the Chief Executive and was posted to the HKMA's New York Representative Office.  He says, "It is very fulfilling whenever I see the policies which I am involved in have contributed to positive market developments."
As a regulatory authority in one of the world's premier financial centers, what qualities does the HKMA expect its MTs to possess?  Vincent thinks that the candidates should demonstrate that he/she is able to "boldly hypothesize and carefully verify".  When formulating policies, in addition to regulatory requirements, the HKMA has to take into account the impact on the market.  Therefore, the MTs should have an inquiring mind to research and analyse different information.  All these will help devise policies that are both effective and acceptable to the market.
Let's look at the Infrastructure Financing Facilitation Office ("IFFO") which Vincent has participated in its establishment as an example.  Just like many others, at first Vincent queried whether Hong Kong could provide the foundation for the facilitation of infrastructure financing.   However, after deliberating with various stakeholders and studying the related information and facts carefully, he found that there should be great potential for the development of this highly specialized area of investment.
Then what kind of people is unsuitable for applying for the MT positions?  Vincent thinks that there are two kinds of people.  First are those who seek short-term returns.  "We have to be committed to our society and policy work is very time-consuming and painstaking.  We are not focusing on short-term results."   Second are those who sit in ivory towers.  "We have to take into account the actual situation in order to find feasible solutions and theories can only get you so far."
On work-life balance, Vincent is a long distance running enthusiast.  He trains in his spare time.  Together with other colleagues representing the HKMA, Vincent's team has once won the champion in the corporate category of an open race.  He says, "If I have not joined the HKMA, I would not have become friends with other running and hiking enthusiasts in the Authority."  He has formed a hiking team with some colleagues, organising hiking activities from time to time to share the joy of hiking with other colleagues in the HKMA.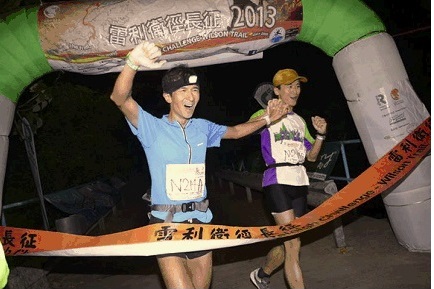 Caption: The HKMA Corporate Team, comprised of Vincent (left) and other colleagues, is the Champion of the Men's category in the Raleigh Challenge - Wilson Trail 2013 "Adventurer — Night Course".
Sharing from other MTs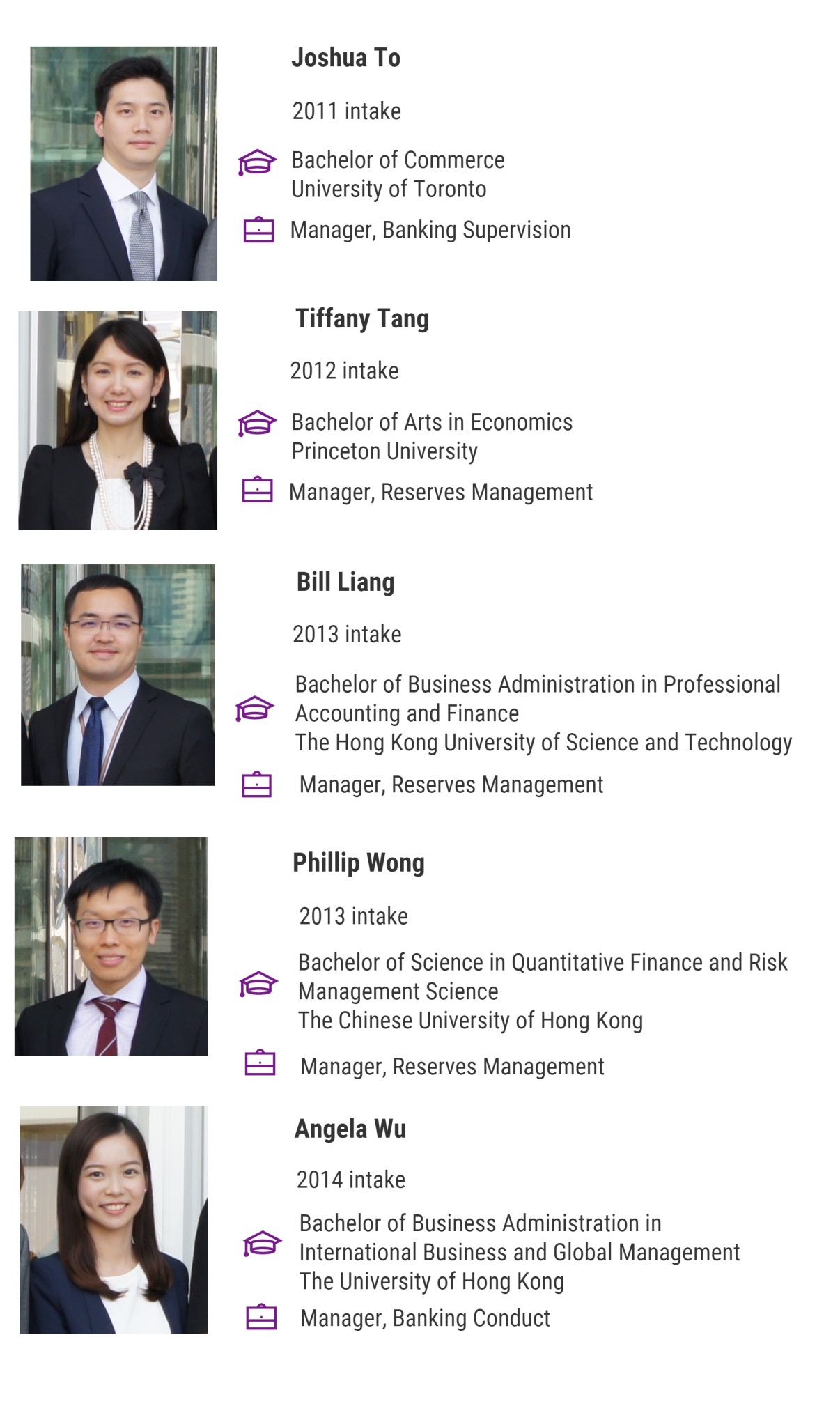 Why did you join the HKMA's MT programme?
Tiffany: I majored in Economics in the university, but I am also very interested in public policy.  The chance to work for the HKMA fits both my background and my interest.  The HKMA's functions cover various areas, including maintaining monetary and banking stability, managing the Exchange Fund and developing financial infrastructure.  Therefore, the MT programme is quite diversified.  One would have a good understanding of the HKMA's functions and operations after completing the two-year programme which consists of three postings.
Angela: I was working with a bank before joining the HKMA.  While I am interested in the financial field, I also want to serve the community and so the switch to the public sector.  One merit of the MT programme is that one gets to understand the HKMA's work within a relatively short period of time.  Through job rotations, one can find out his/her interest and work areas where one's potential and capabilities are put to the best use. 
Joshua: Thinking hard day in day out to make money for a commercial firm is not really my cup of tea.  Instead, I'd like to make better use of my knowledge and effort to serve the society by contributing to the maintenance of our banking and financial stability.  The MT programme is attractive as it offers the chance to understand the different functions of the HKMA in addition to the fact that on successful completion of the two-year programme, one will be promoted to be a Manager.
Bill: I joined an investment bank after graduating from college.  But I am always more interested in the public sector, as I hope to serve the community.  So I applied for the MT post without hesitation once I spotted the HKMA's ad. 
Phillip: The HKMA very often acts as the agenda setter regarding most issues.  Its role is more pro-active, bringing more job satisfaction.
You all had worked with a private company before coming to the HKMA.  What is the biggest difference between the two in terms of the working environment?
Tiffany: The switch from the private sector to the public sector is quite interesting, involving a totally different way of thinking.  In an investment bank, we only need to work out how to seek the highest returns and beat our competitors with our projects.  We rarely need to consider the possible implications outside of the company.  At the HKMA, we have to make more in-depth and comprehensive consideration and analyses.  For example, when I was at the Banking Policy Department, our supervisor would remind us that we have to carefully consider the potential implications of our every suggestion to the Supervisory Policy Manual for banks and the financial industry in Hong Kong.
Bill: We have a stronger sense of job security.  In comparison with the private sector, economic cycles and changes in market situations will not have too much impact on us.
Tiffany: I agree.  It's hard to build a sense of belonging when one always has to worry about being laid off.
Joshua: This relates to the corporate culture and environment.  With commercial firms, colleagues seek to outshine others whereas colleagues at the HKMA have a strong sense of mission - working for the public interest.  Moreover, the working environment is more congenial, with a better work-life balance.
Bill: There are a host of investment banks, consultancies and accountancy firms in Hong Kong.  But the HKMA is unique, tasked with unique missions, and often working with special institutions on special projects.  This valuable experience may not be available in other companies.  For example, while accompanying our senior executives to some meetings overseas, I got the chance to meet with some key figures in the financial industry.  In addition, as MTs will be posted to different departments, they will be able to broaden their experiences and meet more colleagues.
Phillip: I had accompanied our senior executives on an overseas trip following the UK's referendum on leaving the EU.  We met with various financial institutions and learned about the possible impact of Brexit on these institutions.  I would also like to point out that as our daily work at the HKMA is quite challenging, we often have the chance to put our strengths to work.
How do you adapt yourselves with different postings?
Phillip: Each department requires different expertise.  But the HKMA has a relatively consistent culture and thinking mode, which, if grasped, can help us adjust more easily when transferred to a new department.
Do you find that the HKMA is out of touch with the public?
Angela: I am now with the Banking Conduct Department.  So I can witness closely how the HKMA seeks to protect the interests of the general public through the supervision of banks.   For example, a fitness group closed down recently, causing public concerns about refunds and termination of autopay arrangements.  Through explaining the different payment methods and banks' general approach in handling the issue to the public and taking part in other follow-up work, I have gained a deep sense about the importance of my work to the public.  We also work on promoting the spirit of financial inclusion, such as encouraging banks to launch video teller machines and mobile branches.  These are all relevant to the daily life of the whole community.
Do you have any advice for the potential applicants for the MT post?
Tiffany: MTs have to be versatile.  If you are a fast learner and highly flexible, there are many opportunities in the HKMA.  For example, many of the colleagues in the Reserves Management Department come from the private sector with extensive working experience.  However, the management will not dismiss the MTs because of their lack of experience.  On the other hand, there are plenty of opportunities for the MTs to learn and grow.
Joshua: Good communication skills are very important.   In particular, ability to write accurately and clearly is a must.  After all, we are a regulatory authority and proper documentation is essential.  Therefore, no matter which department you are working in, writing skill is a prerequisite.